'Sharknado 5: Global Swarming' Teaser Trailer: Yep, There's Another One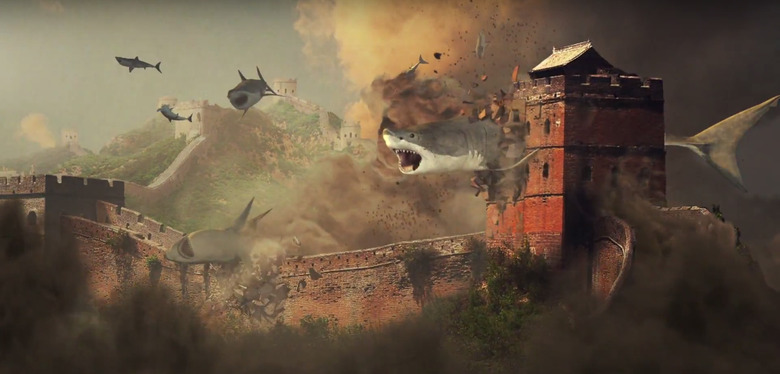 The Earth is round, gravity pulls you down, and there's another Sharknado movie. Because why wouldn't there be?
I'll admit I've only watched one Sharknado movie while black out drunk — I think it was Sharknado 3: Oh Hell No! because I remember being upset that they cast Ann Coulter in the movie and didn't kill her off — but I get it, guys. I recall thinking at the time that Sharknado 3 was the best movie ever, and I'm pretty sure every Sharknado experience is like that. And now there's a teaser for Sharknado 5 out, and the 20 seconds already point to it being another masterful movie about flying sharks.
Seven Wonders of the World? Meet Sharknado. Because though the Great Wall of China can survive hundreds of years of invasions, weather, and the fall of empires, it's just no match for a flying shark.
Also no match for this most bizarre of natural disasters? Big Ben in London, the Sphinx statue in Egypt, and countless other landmarks around the world. This is just a 20-second teaser, so we'll probably get a full trailer soon. I won't comment on how ridiculous it is that we're getting teasers for even Sharknado movies, because, come on, it's Sharknado. Syfy knows its audience.
This is actually a logical next step from the cliffhanger on which Sharknado: The 4th Awakens ended. The Shepard family had saved the day once again only for the Eiffel Tower to fall from the sky, blown all the way to Niagara Falls from Paris.
Sharknado 5 will see Ian Ziering and Tara Reid returning once again as Fin Shepard and April Shepard, the family with possibly the worst luck, but the best chainsaw skills, in the world.
Here's the short synopsis for Sharknado 5: Global Swarming below:
With much of America lying in ruins, the rest of the world braces for a global sharknado, Fin and his family must travel around the world to stop them.
While Sharknado 5: The Global Swarming is a pretty great title, I still don't think it beats Sharknado: The 4th Awakens. Of course if you're going for simplicity, Sharknado 2: The Second One is pretty great. I'm still not sure what Oh Hell No! has to do with the third film, but I'll just go with it. I'll be interested to see whether Sharknado 5 actually addresses the scientific issue upon which they're making the pun, but I doubt it'll be more than Ziering growling something like, "The globe...it's warming. And the sharks love warmth."
Sharknado 5: Global Swarming will premiere on Syfy August 6.