'Okja' Trailer: Critics Sing Praises For Bong Joon-Ho's Film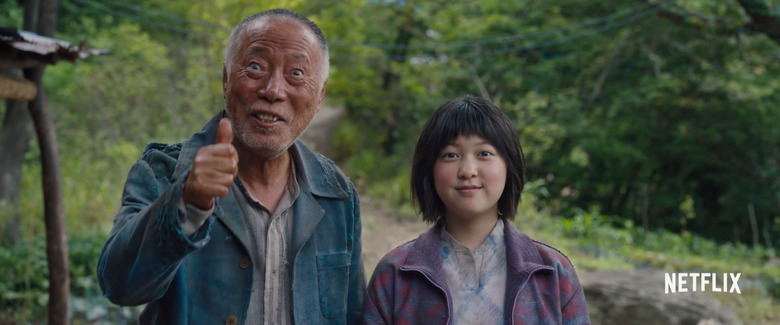 Okja has been at the center of many conversations — it's Bong Joon-ho's next anticipated film after his critically acclaimed cult hit Snowpiercer, it's Netflix's next big gamble in the feature film business, and it has caused all kind of controversy at the Cannes Film Festival for its lack of a traditional theatrical release.
But perhaps not enough has been said about how good the film actually is. So the new trailer does that job for you, compiling all the rave reviews of critics singing praises for Okja.
As a haunting choral cover of Nine Inch Nails' Piggy floats over the trailer, we see flashes of Ahn Seo-hyun's journey with her best friend, a strange creature named Okja, interspersed with title cards featuring critical praise, calling the movie everything from "joyful," "eye-popping," "unexpected," and "thrilling."
The girl and her giant mutant pig frolic in the Korean countryside before he is captured by a threatening conglomerate, the Mirando Corporation, and Mija starts an alliance with a group of militant animal activists lead by Paul Dano.
"Everything you believe you know about Okja is a lie," Dano's animal activist tells Mija.
Other than Dano and Ahn, no one else speaks in the trailer. It's a fairly simple teaser for the movie that lets the praise stand for itself. We get silent glimpses of Tilda Swinton's Lucy Mirando, the head of the conglomerate, and Jake Gyllenhaal's wacky TV personality, all while Mija springs into action to rescue her best friend.
Below is the official synopsis for Okja:
For 10 idyllic years, young Mija has been caretaker and constant companion to Okja – a massive animal and an even bigger friend – at her home in the mountains of South Korea. But that changes when family-owned, multinational conglomerate Mirando Corporation takes Okja for themselves and transports her to New York, where an image-obsessed and self-promoting CEO has big plans for Mija's dearest friend. With no particular plan but single-minded in intent, Mija sets out on a rescue mission.
I cannot wait for Okja and truly believe, like some are theorizing, that this could be the first great Netflix movie. We've had some indie darlings like Macon Blair's I Don't Feel at Home in This World Anymore or prestige pictures like Netflix's first venture into feature films, Cary Fukunaga's Beasts of No Nation. But none has quite hit that sweet spot of critical acclaim and mass anticipation. The goodwill from Snowpiercer, which earned its following through after its theatrical release as people caught up with it on Netflix and other streaming services, will hopefully carry through here. Okja's bizarre but relatable plot may just be what Netflix needs to truly break through with a feature film.
Okja will be available on Netflix on June 28.