'Daddy's Home 2' Trailer: Mel Gibson & John Lithgow Are Home For The Holidays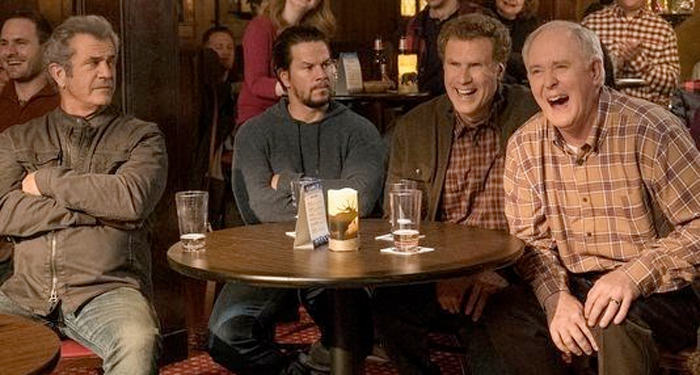 When Daddy's Home hit theaters in 2015, it had Mark Wahlberg and Will Ferrell as a father and step-father competing for the love of their children. The comedy was such a big hit that a sequel was fast-tracked to arrive this holiday season and the first teaser trailer has just arrived, bringing two more fathers into the fray.
Daddy's Home 2 has Will Ferrell and Mark Wahlberg living harmoniously as co-dads, raising their kids with a bromance level of cooperation and friendliness. But when Christmas rolls around and their own fathers, played by Mel Gibson and John Lithgow, come to the first joint family holiday celebration, they might not see eye-to-eye again as they each try to impress their dads.
Watch the Daddy's Home 2 trailer below.
We immediately get to see the contrast between Mel Gibson's rough around the edges father who tries to tell his grandkids jokes about hookers and John Lithgow's lighter, loving father who couldn't be happier to see his son, greeting him at the airport with a huge kiss right on the mouth after being away from him for just two weeks. The change in music is a nice touch to show the clear difference between the two fathers.
This will undoubtedly be another box office hit when it arrives just before Thanksgiving this holiday season. Will it be able to measure up to the first film's $242 million at the global box office, $150 million of which came from the United States? That depends on whether co-writers Sean Anders and John Morris have written another amusing, family friendly comedy.
The first movie was a little too slapsticky for me to really enjoy, but I found myself liking how the second half of the movie played out as opposed to the more goofy first half. Maybe the comedy can steer away from the more broad humor and lock down something a little more clever this time.
Sean Anders also directs with Linda Cardellini, Alessandra Ambrosio and even John Cena returning to reprise their roles from the first movie.
In Daddy's Home 2, father and stepfather, Dusty (Mark Wahlberg) and Brad (Will Ferrell) have joined forces to provide their kids with the perfect Christmas. Their newfound partnership is put to the test when Dusty's old-school, macho Dad (Mel Gibson) and Brad's ultra-affectionate and emotional Dad (John Lithgow) arrive just in time to throw the holiday into complete chaos.
Daddy's Home 2 hits theaters on November 10.