'Detroit' Second Trailer: John Boyega Gets Falsely Accused In Kathryn Bigelow's True-Life Drama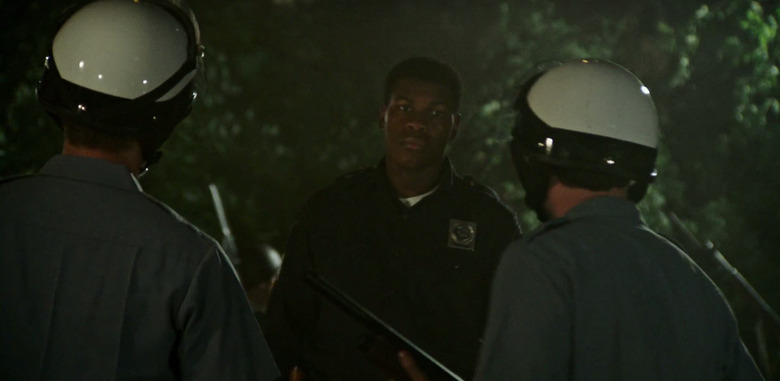 "What happened at the motel?"
The newest trailer for Kathryn Bigelow's anticipated drama Detroit reveals more of the story, which is based on true events that took place during the 1967 Detroit race riots. John Boyega's security guard, seemingly a passive, observing figure in the first trailer, takes the spotlight here, standing accused of a murder he did not commit by detectives hiding the actions of unhinged police officers.
Boyega plays Melvin Dismukes, a black security guard trying to stay uninvolved with the escalating tensions and riots that plagueed Detroit after police clashed with the black community in the 1967 12th Street Riot. But he hears gunshots at the nearby Algiers Motel and he discovers three black men killed by police and nine other people (seven black men and two white women) brutally beaten.
Dismukes is taken into an interrogation room, where the detectives grill him on the gun that he keeps on his person and try to pin the deaths on him. The trailer flashes back and forth between Dismukes' interrogation and the night of the violence, in which Will Poulter's officer threatens the group at the motel and Dismukes whispers to one of the black men, "I need you to survive the night."
Here's the brief official synopsis for Detroit below:
From the Academy Award winning director of THE HURT LOCKER and ZERO DARK THIRTY, DETROIT tells the gripping story of one of the darkest moments during the civil unrest that rocked Detroit in the summer of '67.
The story is based on the true experiences of Melvin Dismukes, a former security guard who describes "his side of the story" in an accompanying featurette.
"To turn around and get charged with first-degree murder, it hurt," Dismukes said.
The featurette explores the racial "powder keg" that was Detroit in the 1960s, leading up to the Algiers Motel incident. Members of the Detroit Police Department, the Michigan State Police, and the Michigan Army National Guard were sent to the motel after reports that a gunman or group of gunmen had been seen in the vicinity and the night ended the three deaths and nine beatings. Three officers and Dismukes were charged with assault, conspiracy, murder, and conspiracy to commit civil rights abuse.
The cast of Detroit is rounded out by Algee Smith, Jacob Latimore, Jason Mitchell, Hannah Murray, Kaitlyn Dever, Jack Reynor, Ben O'Toole, Joseph David Jones, Ephraim Sykes, Leon Thomas III, Nathan Davis Jr., Peyton Alex Smith, Malcolm David Kelley, Gbenga Akinnabve, Chris Chalk, Jeremy Strong, Laz Alonzo, Austin Hebert, Miguel Pimentel, Kris Davis, with John Krasinski and Anthony Mackie.
Detroit hits theaters August 4, 2017.