Tom Cruise Is Being Blamed For The Failure Of 'The Mummy'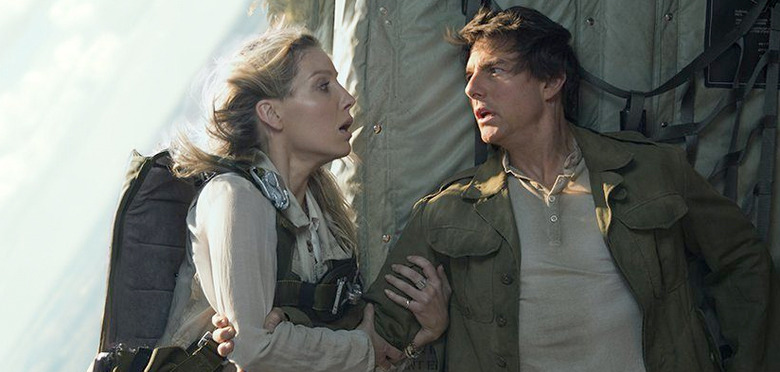 The Mummy was supposed to be the start of a new cinematic universe, and a new franchise for star Tom Cruise to notch onto his belt. But scathing reviews and a tepid domestic opening of $32 million seems to have killed it dead.
Of course, as it happens with mega-blockbusters like The Mummy, the Hollywood blame game has started and all signs point to Cruise. Apparently, Cruise's excessive control of the movie changed the story almost completely, resulting in the mess that became The Mummy, a movie that thinks Cruise is "a young man."
Blockbusters often have massive teams of people working on the movie, required to come together to make the most of the millions spent on it. The Mummy especially had a lot riding on it because it was meant to launch Universal's Dark Universe, its cinematic universe of classic movie monsters like Frankenstein, the Invisible Man, Dr. Jekyll/Mr. Hyde, and more. But Variety reports that The Mummy became "a textbook case of a movie star run amok."
According to to Variety's reporting, Cruise had "excessive control" of the creative direction of The Mummy. The outlet said:
"Universal, according to sources familiar with the matter, contractually guaranteed Cruise control of most aspects of the project, from script approval to post-production decisions. He also had a great deal of input on the film's marketing and release strategy, these sources said, advocating for a June debut in a prime summer period."
Cruise's expanded creative role may have been in part due to the studio tapping Alex Kurtzman, a relatively untested filmmaker who had only helmed 2012's People Like Us, to direct the movie. Kurtzman struggled with the scope of the project, leaving Cruise to dictate the major action sequences and micro-manage the production, Variety's sources said.
Being the star and the pseudo-director reportedly fed Cruise's vanity, expanding his character's role until he had more screen time than the titular Mummy played by Sofia Boutella. Though Cruise is 54 years old, these script changes supposedly didn't reach the part about his character's age, who at one point is called "a young man." Variety continues:
"His writers beefed up his part. In the original script, Morton and the Mummy (played by Sofia Boutella) had nearly equal screen time. The writers also added a twist that saw Cruise's character become possessed, to give him more of a dramatic arc. Even though Universal executives weren't thrilled about the story — which feels disjointed and includes Russell Crowe as Dr. Jekyll — they went along with Cruise's vision."
Of course, some crew members who worked on the project had praise for Cruise's professionalism, with supervising art director Frank Walsh saying: "This is very much a film of two halves: before Tom and after Tom ... The guy is a great filmmaker and knows his craft."
Cruise oversaw everything from the script changes, to post-production, bringing in his longtime editor Andrew Mondshein to work on the film. Variety says there were rumblings of "whether Cruise's directions were improving a picture that had been troubled from its inception or whether they were turning a horror film into a Cruise infomercial."
Needless to say, audiences felt like it was the latter.