'Black Panther' Star Danai Gurira Joining 'Avengers: Infinity War'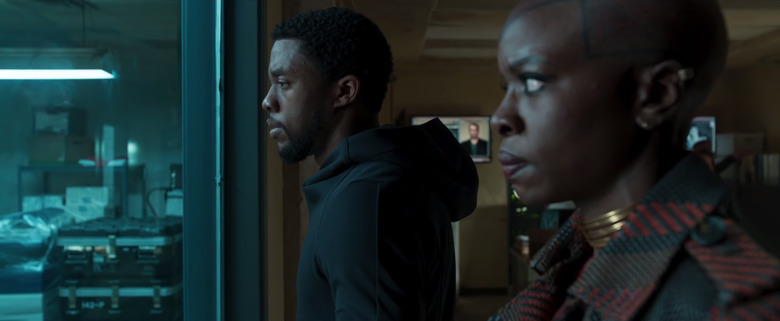 Danai Gurira has not yet spoken a line of dialogue in the footage we've seen of Black Panther, but her character is already taking a big leap.
Gurira has been confirmed to appear in Avengers: Infinity War, the anticipated superhero team-up film that will see the culmination of all the Marvel Cinematic Universe movies leading up to it.
Gurira will be joining the already colossal cast of Infinity War, according to Deadline. While character details aren't confirmed, we can assume that she will be reprising her role as Okoye in Black Panther, one of the members of the cabal of fierce women warriors who guard the king of Wakanda, the Dora Milaje.
She appears a few times in the trailer for Black Panther, first alongside T'Challa (Chadwick Boseman), the titular Black Panther and Wakandan king, watching an interrogation of Ulysses Klaue. Her next appearance is in the red costume of the Dora Milaje, twirling and fighting with a spear.
@DanaiGurira Gurl , U LOOK SO GOOD !!! #BlackPanther 🔥🔥🔥 pic.twitter.com/HJKPc4ktIF

— Andréa Glorfindel da Silva Felagund (@MaryRocker18) June 10, 2017
Otherwise, it's hard to nail down what her character is like. I'm assuming she's a stoic, trusted guard and adviser to the king — why else would she be the only one beside him as he observes one of his mortal enemies be interrogated? Her trusted status is probably why she joins Infinity War, in which T'Challa is confirmed to appear. If she is his best bodyguard, she will most likely be next to him in many of his scenes.
And – kind of a spoiler for Black Panther — at least this means she lives in the end!
The Dora Milaje are a group of women warriors who are chosen from different tribes across Wakanda and trained to serve and guard the king. Originally assembled as the superior women from the tribes who could potentially marry the king, they now only act as bodyguards.
While Gurira's role may seem minor in Black Panther, she is known for another genre series as well. Gurira plays Michonne in The Walking Dead, a fan favorite character who is known for her long dreads, stern leadership, and her katana sword. Fans may not recognize her because of her shaved head, but she looks to be just as impressive and powerful in Black Panther.