'Little Nightmares' TV Show Coming From Henry Selick And The Russo Brothers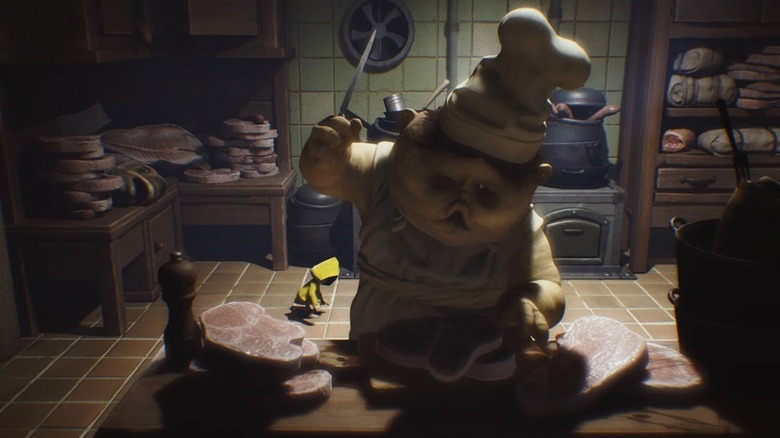 It's been eight long years since Henry Selick (Coraline) last directed a film. The good news: he has a new project in the works, this time for the small screen. Based on a new video game called Little Nightmares, this looks right up his alley. To make the news sweeter, he'll direct a pilot for the series executive produced by Joe and Anthony Russo (Captain America: Civil War).
Below, learn more about the Little Nightmares TV show.
According to The Hollywood Reporter, Selick may direct more episodes than the pilot. Tarsier Studios' Little Nightmares was released back in April, and it was praised for its imaginative scares and environments. The game follows a nine-year-old, Six, aboard "The Maw," a ship occupied by some nasty creatures. As the young girl tries to escape, she'll first have to survive The Twin Chefs, The Janitor, the Lady, and other creatures.
After watching the trailer for the game, it's easy to see the potential in Selick bringing this strange world to life in a TV show:
The young kid sneaking around in a yellow raincoat definitely calls to mind Selick's stop-motion adaptation of Coraline, a movie that remains creepy, wonderful, and just plain beautiful.
The Russo Brothers are executive producing Little Nightmares along with DJ2 Entertainment's Dmitri M. Johnson and Stephan Bugaj. DJ2 has recently sought out video game properties to adapt, including Life is Strange and Sonic the Hedgehog. An exec at the unnamed Russo Brothers' company, Mike Larocca, will serve as a co-executive producer on Little Nightmares – which joins a list of other promising projects the Russo brothers are developing. The duo, who are currently in post-production on Avengers: Infinity War, are producing a TV remake of The Warriors, based on the Walter Hill classic, for Hulu. It's yet to get the greenlight, but based on everything I've heard about the show and what they have planned for it, let's hope it moves forward soon along with Little Nightmares.
It's a shame we don't see Selick's imagination splashed on the big screen more often. He's created so many characters and images that are impossible to forget. Unfortunately, his projects have had trouble finding momentum, most notably The Shadow King, a stop-motion feature Disney backed out of after spending $50 million on it. Last summer, it was reported the project was in turnaround again. Another project of Selick's we hope comes to fruition is Wendell and Wild. That animated project would have him working with Jordan Peele and Keegan-Michael Key, who would play two demon brothers.