Valiant's 'Shadowman' Movie To Be Directed By Reginald Hudlin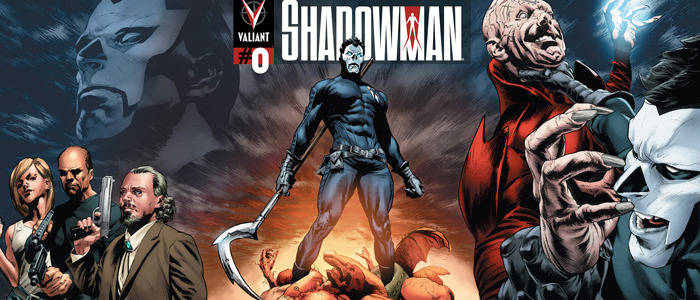 The Marvel Cinematic Universe is currently king of the mountain when it comes to telling interconnecting stories across multiple movies, but Warner Bros.' DC Extended Universe and Universal's Dark Universe are looking to build their own ongoing cinematic universes. Valiant Entertainment, a company looking to use their comic books as the basis for a cinematic universe of their own, has been waiting on the sidelines since 2012, and it seems like they're finally inching closer to joining the fray with a film based on Shadowman.
Reginald Hudlin, a veteran director and producer, has been hired to take the reins on this one, and he'll team with an acclaimed showrunner to rewrite the script.
According to The Hollywood Reporter, Hudlin is attached to direct and will rewrite J. Michael Straczynski's screenplay with Adam Simon, the showrunner of the WGN series Salem. Hudlin has been directing since the early '90s, with credits for films like House Party and The Ladies Man, episodes of The Office, Better Off Ted, Modern Family, New Girl, and many more. He also produced Django Unchained and has extensive comics writing experience, including Marvel's Black Panther and Django/Zorro.
The Shadowman comics are about a New Orleans jazz musician who gains superpowers and goes out for revenge against an evil necromancer named Master Darque. Here's the film's official logline:
The forces of darkness are determined to claim New Orleans as their own, and Jack Boniface must accept the legacy he was born to uphold in order to stop them. As Shadowman, Jack is about to become the only thing that stands between his city and an army of unspeakable monstrosities from beyond the night. He must pay a high price and master his new abilities before Master Darque brings down the wall between reality and the eldritch darkness of the Deadside.
Valiant Entertainment has multiple projects in development at this point: Harbinger is supposed to kick off their shared universe, Bloodshot is set to follow it, Archer & Armstrong will be in the mix somewhere, and the whole thing theoretically culminates in a Harbinger Wars crossover event film. But after years of development, the only concrete thing we've seen from them has been some images of former green Power Ranger Jason David Frank in character as Bloodshot for a live-action Ninjak web series. The company could just be taking their time to get their scripts exactly right, but they're not exactly moving quickly. I'm beginning to wonder if any of these movies are ever going to happen at all. I hope they do, though, because it'd be nice to see Hudlin – a black filmmaker – given a seat at a table Hollywood traditionally hasn't made available.