The Water Cooler: Ghostbusters Action Figures, A Great Batman Book, Video Games, Aaron Sorkin & Dieting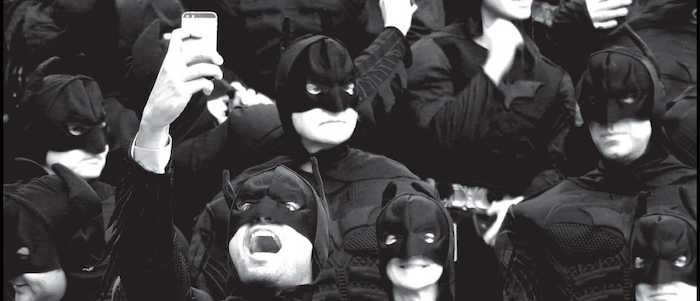 Welcome to The Water Cooler, a weekly feature where the /Film staff is free to go off-topic and talk about everything except the movies and TV shows they normally write about. In this edition, the joys of collecting Ghostbusters action figures, the trials of a new diet, the agonizing wait for Kingdom Hearts 3, an excellent book about Batman, an excellent book about L.A.'s poker scene (that Aaron Sorkin in making into a movie), and the harrowing joys of the video game Thumper.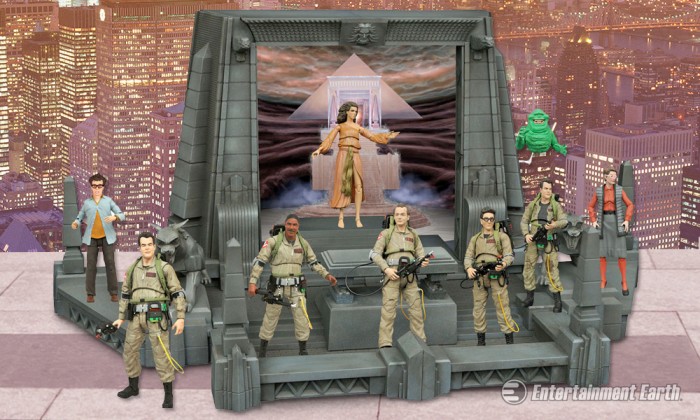 Ethan Anderton Has Been Collecting Diamond Select's Ghostbusters Action Figures
Diamond Select makes a lot of memorabilia that's just plain junk. But when it comes to some of their action figure lines, they knock it out of the park. Such is the case with their line of 7-inch Ghostbusters action figures. In addition to being super articulated and accompanied by an impressive array of accessories, what's really cool is what you see above.
Each of the 15 figures in the Ghostbusters action figure collection comes with a piece of a diorama that recreates the rootop scene from the end of the movie. This month brings the final three figures to shelves, so fans who have been collecting this series since last spring can finally complete the diorama. One of those fans is me.
As a die hard Ghostbusters fan, seeing images of this diorama when it debuted at the New York Toy Fair had me immediately itching to get my hands on all these figures. These Ghostbusters figures are the best pieces of merchandise to be available at an affordable price. The likenesses of the actors is pretty great for such inexpensive figures, and seeing them lined up on the rooftop diorama makes them look even more awesome.
In addition to the figures above, there's also Gozer the Gozerian, a terror dog (I'm gonna have to buy two to properly recreate the rooftop scene), Walter Peck, the zombie taxi driver, the grotesque form of the librarian ghost, Slimer and alternate versions of Ray Stantz and Peter Venkman. I have all of them except the final three coming out this month, and I can't wait to complete this rooftop set.
Of course, Diamond Select is following up this line with a Ghostbsuters II set of action figures, each coming with a diorama piece that will recreate the front of the Ghostbusters firehouse. Since I'm not as in love with Ghostbusters II as the first movie, I'm not sure if I'm keen on collecting that line or not. Though there will be a series of the Ghostbusters wearing Santa Claus hats, which could make for a nice alternative Christmas decoration. Plus, the figure of Louis Tully in Ghostbusters gear is pretty cool. I'll have to wait to see what the other figures in the line-up will be before I decide to spend the money on them.
Hoai-Tran Bui Has Grown Frustrated Over the Wait For Kingdom Hearts 3
It's been 84 years.
Well, that's an exaggeration, but it has been 12 years since Kingdom Hearts 2 was released. And since then, I've been waiting, subsisting on the after-credits tease (and now, this week's new gameplay trailer), for Kingdom Hearts 3.
Now, I'm no gamer, but I would drop absolutely anything for Kingdom Hearts. It's a video game series that I've kept up with since I first picked up the original in middle school, enchanted by the melding of Disney characters with high fantasy anime-style characters. I tried out a few Final Fantasy games — barely finishing X, X-2, then giving up after getting lost for an hour in XII — but they never quite captured my fascination like Kingdom Hearts did. Kingdom Hearts had possibly the most ridiculous story I'd ever seen — a boy wields a giant sword shaped like a key, exploring different Disney worlds while accompanied by a decked out Goofy and Donald — but dumb little 12-year-old me thought it was the deepest stuff that ever existed. I'll admit that I bawled when Sora and Kairi were separated at the end of the game, and I bought Utada Hikaru's songs and cried listening to them again. I eagerly bought and played the Game Boy sequel, Chain of Memories, and waited with bated breath for Kingdom Hearts 2 a year later. Then ... nothing.
Yes, I'm aware of the billion spin-off games, prequels, and in-between-quels (I cried again to 358/2 Days), but I had long gone from being a broke middle school kid to a broke college kid. I tried my best to keep up with the increasingly convoluted story, out of some loyalty to the series that defined my childhood, even watching a 10-hour YouTube walkthrough of Birth By Sleep. This series has taken half of my life, but still, still Tetsuya Nomura won't give me Kingdom Hearts 3. The latest gameplay trailer is not enough to quench my thirst for this game — I want a date, and an accompanying Utada Hikaru song. I will buy a PS4 console just so I can run around as Sora, swinging my Keyblade and reliving my favorite childhood video game.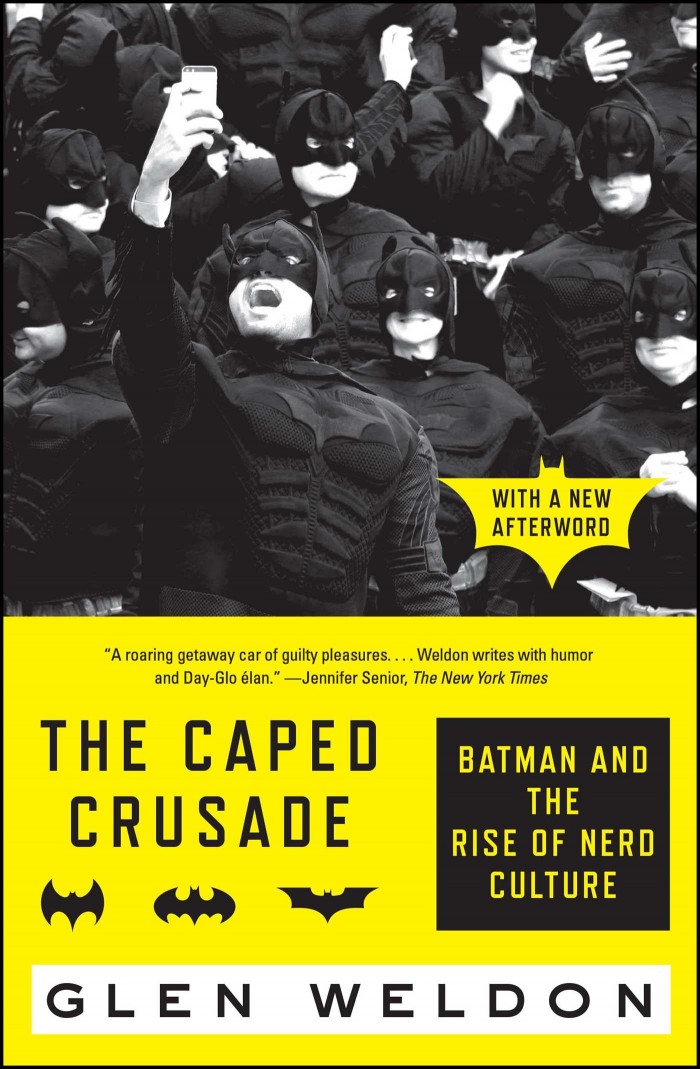 Ben Pearson Has Been Reading Glen Weldon's 2016 Book The Caped Crusade: Batman and the Rise of Nerd Culture
In a cosmic coincidence, I was literally reading a chapter of The Caped Crusade that discussed the impact of the 1966 Batman TV series when my wife told me that Adam West had died. Kind of a downer, but as I continued to read Weldon's enthusiasm about that show in his book, it helped softened the blow of West's passing for me.
The Caped Crusade isn't only about the '66 Batman show: it's a comprehensive analysis of practically everything involving Batman, from the character's initial comic appearance all the way to his cameo in last year's Suicide Squad. It's also just a solid piece of writing. It's lighthearted, funny, but informative, and though it gets into some deeply nerdy corners of the Bat-canon, it never reads like a textbook. As someone who only read the highlights of Batman comics growing up – Year One, The Dark Knight Returns, The Killing Joke, The Long Halloween, etc. – this book turned me on to entire eras of Batman's comic history that I had never even heard of.
Plus, it delivers a cogent analysis of why some Bat-fans are so damn hardcore, and traces the toxic subculture that sprouted up in response to negative reviews of The Dark Knight Rises. I wouldn't recommend this to super hardcore Batman fans who have been reading the comics their whole lives, because a lot of the book might be redundant, but for anyone else with an interest in the Dark Knight, this is a quick, terrific read.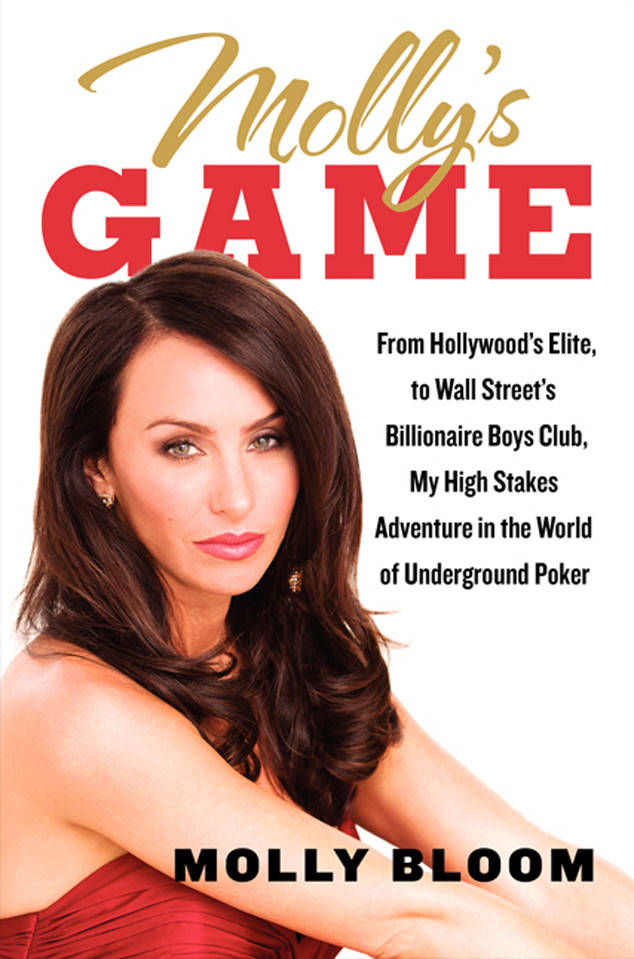 Jack Giroux Has Been Reading Molly's Game
I hope Aaron Sorkin's directorial debut is as exciting as Molly Bloom's book. It's a great story. Before running high-stakes poker games – which Ben Affleck, Tobey Maguire, and Todd Phillps attended – Bloom almost made the Olympic Ski team, had a 3.9 studying political science at CU-Boulder, and came from a family that sounds like a dream team of success stories. Her success story is a fun, very dramatic and wild tale of ambition. It's all about someone who sees a tremendous opportunity and continually fights for it. Almost at every turn, she faces challenges that she, in some ingenious ways, overcomes.
Bloom tells the story of her rise in the underground poker world at a quickfire pace with candor. There's some Hollywood gossip, but she's more honest about her own experience running the games, the enemies that come with the territory, and the nuts and bolts of the world she lived in. Anyone interested in the subject matter, Bloom, or Sorkin's film should read Molly's Game. Considering how entertaining it is, it's not the least bit surprising it's being adapted into a movie.
Jacob Hall Has Been Playing Thumper on His Nintendo Switch
I was skeptical about the Nintendo Switch...until I actually got to play one. And then I had to have one. Immediately. Nintendo's new video game console scratches a very different itch than my PlayStation 4 does and being able to take it on the go has made it one of my go-to devices for traveling. It's a cool machine that feels nice in your hands and makes all kinds of delightful noises. I am happy to have it in my home.
But as I knew going in, the current game library isn't quite up to snuff. While The Legend of Zelda: Breath of the Wild is as good as you've heard, there aren't a ton of options out there yet. However, the promise of this being a strong platform for smaller indie games has me hopeful for the future.
Enter Thumper. Originally released on other consoles and PC last year, Drool's "rhythm violence" game is like Rock Band re-imagined as a cosmic horror tale. You guide a small beetle along a strange, never-ending track that stretches far into...outer space? Alternate dimensions? Time itself? There is no story here, just unsettling imagery and an even more unsettling industrial soundtrack that feels like it's being pumped out of the speakers at Hell's most popular night club. Like other rhythm games, you have to hit certain "notes" on the track and react to obstacles with the proper timing to ensure a high score. And to stay alive. Because the unspecified world of Thumper is dangerous and your beetle is fragile. There is nothing quite like journeying into the horrors of cosmos and facing off against giant, Lovecraftian monsters while your every move contributes to a soundtrack that can't help but set your nerves on fire.
Thumper is the most exhausting game I've played in some time, but I can't stop playing it. I've never seen anything else like it – a rhythm game that isn't about recreating familiar songs and all about immersing you in an atmosphere of dread and terror. It's an incredible accomplishment.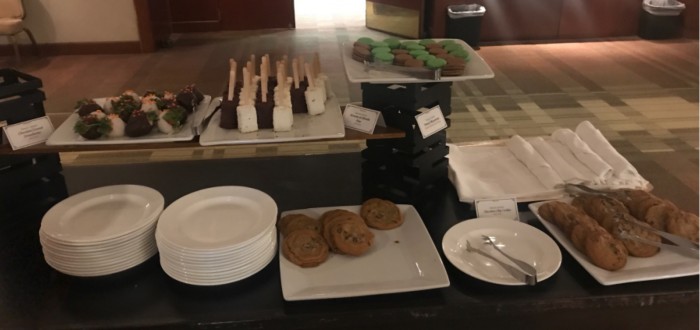 Peter Sciretta is Back on a Diet, and the Struggle is Real (Especially On The Road)
I've been very open about my struggles with weight gain and loss in the past. A few years back, I lost about 75 pounds and wrote about it on the site. Over the past couple years, I gained a significant amount of weight back. So a couple of weeks ago, I went back on a diet. This time I decided to try the Keto Diet as I've heard so many great things from a variety of people I follow and know. The Ketogenic diet is basically a high-fat, adequate protein, low-carbohydrate diet, where the body is forced to burn fats rather than carbohydrates. Like any diet, you're cutting a percentage of calories as well. But the hardest part of this diet for me is staying under 20 grams of net carbohydrates a day.
To make this harder, I had an unscheduled work trip to Atlanta, Georgia pop-up in the second week of my dieting. It's much easier to eat a high-fat low carb diet from the comfort of your home kitchen (especially when your wonderful girlfriend is doing it with you), but a lot harder on the road. Even though it was frustrating, I was able to find options nearly everywhere I went, from airport food courts to hotel room service to on-set catering. It's not easy to order a protein-style grilled chicken sandwich from Chic-fil-a, but I did it. It's not easy to go to a craft services tent filled with a selection of the best junk food you can imagine and choose the tiny bag of nuts hidden in the corner, but I did it. And I'm convinced that if I can make it through a 3-day trip across the country on this crazy diet, I can do it anywhere.
Cut to this weekend; I attended the Cars 3 premiere, which had an afterparty in Cars Land at Disney California Adventure park. To set the scene, there were buffet tables set up all along the main drag of Radiator Springs with all kinds of food and desserts. The Cozy Cone Motel was passing out their signature bread cones filled with awesomeness, as well as free ice cream and churros. I saw a kid running down the street with three churros in each hand, just because he could. It was hard, but I made it work. I ate a couple of bunless sliders from the buffet and a breadless turkey sandwich and veggies from Flo's. Flo's was empty as everyone was outside partying. It was just Adam Sandler and his kid next to us as we removed the bread from our orders and ate our meat. And yesterday, I journeyed to Beverly Hills to interview Cars 3 director Brian Fee at a junket, which had a spread of excellent sandwiches and desserts (seen in the photo above). The temptation is real.
Don't get me wrong; I'm very grateful I get to be invited to these cool events. It's just while on a diet, it's difficult. And unlike other diets, having a cheat day or cheat meal is more problematic. It takes a few days of eating keto to get your body into ketosis. So if you eat one cheat meal, it's likely that you'll knock your body out of ketosis and it could take another four days to get back "in the zone." As much as I wanted one of those Churros, it's not worth three or four days.
Last week, we went shopping for a variety of alien-sounding diet ingredients like Almond Flour and Swerve. I'm peeing on a small chemically treated strip every morning. Is this what my life has become? It's been two weeks, and I've lost 11 pounds so far (some of which was probably water weight). I have a long way to go. Don't worry, my weekly Water Cooler update won't be about dieting, but I will probably write more about the progress a few months from now in a future segment.