'Cannonball Run' Remake Lands 'Dodgeball' Director And Two Promising Writers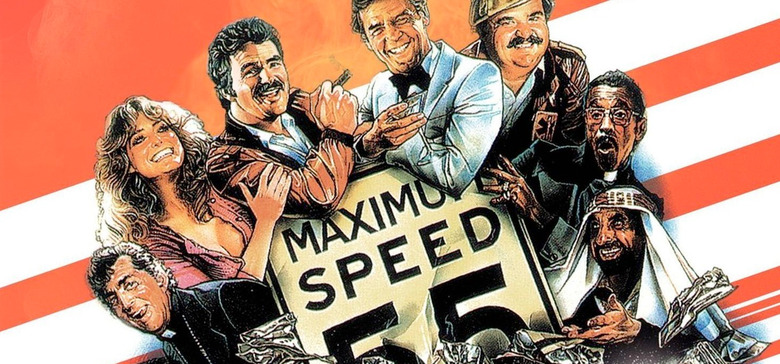 A remake of the 1981 action comedy Cannonball Run has been in the works for years. The last update we heard on the project had Get Hard director and Tropic Thunder writer Etan Cohen writing and directing. But it appears that deal never came to fruition, as a new director and pair of writers have been brought on board the project.
Find out more about the changes behind the scenes of the Cannonball Run remake below.
Deadline has word that Warner Bros. Pictures is currently in talks with Dodgeball and Central Intelligence director Rawson Marshall Thurber to take the helm of what they're calling a "relaunch" of the Cannonball Run franchise. I'm not sure how that's different from a remake or a reboot, but the film will likely take place in the same world as the original films, keeping all three of the Cannonball Run movies in the same canon. That's just speculation on my part, but it wouldn't be hard to keep the legacy of the previous race intact.
For those who don't know, the original Cannonball Run is an ensemble action comedy that featured the likes of Burt Reynolds, Peter Fonda, Roger Moore, Farah Fawcett, Dom DeLuise, Dean Martin and even Jackie Chan in a small role, all playing racers competing in a wild and illegal cross-country road race (that supposedly once existed) where they will do anything to win. The premise was simple, and the big draw was the huge roster of talent. Other familiar faces that popped up include Frank Sinatra, John Candy, Donna Dixon, Eugene Levy, Brooke Shields and many more
So who is writing this relaunch of the Cannonball Run franchise? The studio is negotiating with writing duo Thomas Lennon and Robert Ben Garant, best known for the Night at the Museum franchise and being co-creators of the improv sketch show The State. The two are also credited with writing on the Baywatch movie, but don't hold that against them. From what I've heard, their work on Baywatch was drastically overhauled after Dwayne Johnson signed on, and the original script was much funnier than what ended up on the big screen last month.
The real draw will be the cast. There's no word as to whether or not Warner Bros. intends to round up an all-star cast for the relaunch, but it would be a missed opportunity if that wasn't the case. There's the opportunity to have something extremely fun (and funny) here, especially with Lennon, Garant and Thurber on board. Here's hoping that Warner Bros. intends on making this something worth watching that reflects the spirit of the original.