'John Wick' Director Chad Stahelski Teases Third Film, TV Spin-Off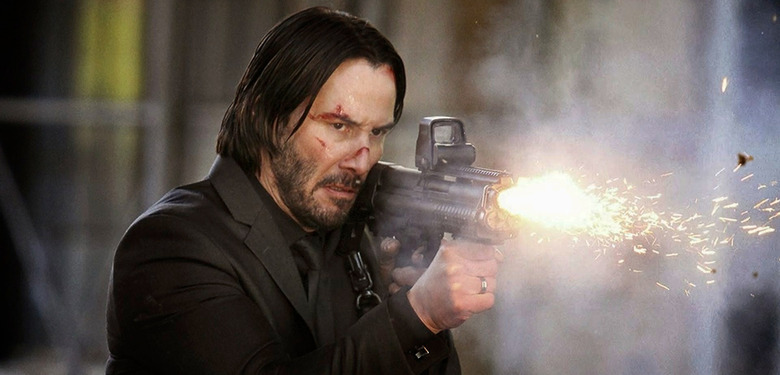 John Wick and its sequel, John Wick: Chapter 2 were unexpected critical and box office hits, so naturally, people keep asking director Chad Stahelski if we're going back to the wild and violent world of John Wick. And Stahelski confirms, yeah, he's thinking we'll go back. (Don't hate me, I know the joke is bad.)
The stuntman-turned-director gave an update on the status of the third movie in what he hopes will be a trilogy, John Wick: Chapter 3, as well as the possibility of expanding the underground assassin world seen in the movies through a television series.
Stahelski spoke to The Independent about the release of John Wick: Chapter 2 on Blu-ray and dished on plans for the third film and a possible TV spin-off.
While Chapter 3 isn't quite off the ground yet — Stahelski wryly joked that they're in "that magic spot called development, but it's going OK" — he and the rest of the John Wick team, including screenwriter Derek Kolstad and John Wick himself, Keanu Reeves, have been "very involved, story-wise and character-wise." He explained:
"We're all very invested in this world. It's a very collaborative, creative team. We have a lot of discussions about it. We're pretty much knee-deep in it.
We are going to put in something about the High Table, how that all works. We're going to put in something about where John comes from, and where he wants to go. I don't want to say too much more, but it will be a nice completion to Mr Wick's journey."
A completion? Then does that mean Chapter 3 will be the end for John Wick's journey? Yes, Stahelski responded, saying that he plans to finish the John Wick series as a trilogy, though that may ultimately be up to the studio.
But fear not! That may not be the end for the colorful, vibrant world of assassins that we were introduced to in the John Wick movies. One of the most revelatory elements of the 2014 original and its larger sequel was the world-building – it's revealed that an expansive network of assassins operate unseen throughout the world, living by a very specific code of rules. (/Film's own Jacob Hall dove into the particulars of why this works so very well.) A TV series would be the perfect place to explore that, albeit on a more limited budget.
Stahelski confirmed that a TV spin-off is in talks, telling The Independent, "Lionsgate is working on that right now. That's up and running. That could be fun." He explained;
"There are a lot of ideas being thrown around right now. A lot of people working on it. I don't know if they've locked in a consensus yet. But they have some very good people on it."
Stahelski's focus at the moment is on Chapter 3, but he does want to be involved in a TV series if it does come to fruition.
What do you think? Would you watch a John Wick-inspired TV series, even if it doesn't star Keanu Reeves?