Cool Stuff: Mondo Gives 'Edge Of Tomorrow' A Collectible Vinyl Soundtrack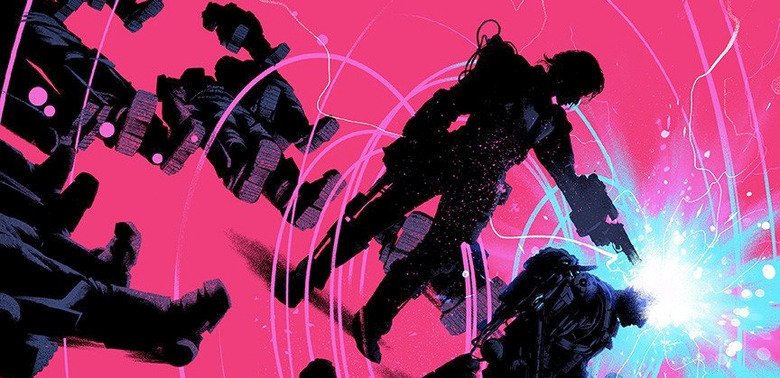 Mondo previously gave the Tom Cruise led sci-fi flick Oblivion a special vinyl soundtrack, because M83's score for the film was one of the best of the past decade, along with Daft Punk's score for TRON Legacy. Now they're giving the same treatment to Tom Cruise's superior sci-fi action flick directed by Doug Liman the year after.
Edge of Tomorrow, or Live. Die. Repeat. as it came to be known on home video, is getting a collectible vinyl soundtrack release today, and it'll make a great addition to your vinyl collection, especially if you love colored vinyl.
Here's the Mondo Edge of Tomorrow vinyl release available to buy today at their online shop:
The score by composer Christophe Beck comes pressed on translucent blue with white and black splatter, inspired by the colors of the aliens that reset the day in the movie. If colored vinyl isn't your jam, you can also get it on black vinyl as well.
No matter what kind of vinyl you get on the inside, it's the artwork on the outside that's the real selling point. The hot pink and electric blue contrast by Matt Taylor is bold and bombastic, not unlike the music that is on the vinyl album itself. The only thing that might make this better is if the late Bill Paxton's repeated monologue given to Tom Cruise when the reset takes him back to the base was included on the soundtrack. But alas, they've kept the audio limited to the score in the film itself.
The Edge of Tomorrow vinyl is available today in the Mondo shop.