'A Midsummer Night's Dream' Trailer Features A Man With A Literal Ass For A Face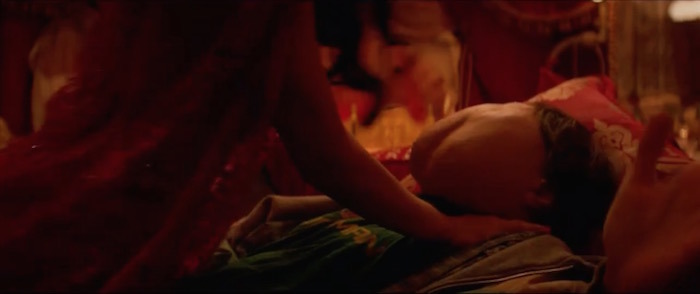 In William Shakespeare's A Midsummer Night's Dream, the pompous actor Bottom has his head transformed into that of a donkey by the mischievous sprite known as Puck (or Robin Goodfellow, depending on how specific you want to get). Much hilarity ensues as Titania, the Queen of the Fairies, falls in love with him after being drugged with a love potion. Shakespeare's funniest play is also his weirdest.
However, it seem that the new film version of the immortal comedy has decided that Bottom's transformation into an "ass" should be taken literally. Which is why actor Fran Kranz can be seen with a big 'ol butt for a head in the trailer.
This new version (whose trailer premiered over at Entertainment Weekly) is set to premiere at the 2017 Los Angeles Film Festival this month and it certainly looks...different. Director Casey Wilder Mott's adaptation moves the action out of ancient Greece and into modern day, while also seemingly stripping down the show's more visually outrageous  –and expensive – concepts. Shakespeare's work is brilliant enough to be interpreted and reinterpreted in countless different ways (I once saw a production of MacBeth set in a Road Warrior-inspired post-apocalypse), so a low-key, quirky indie movie take on his most magical comedy, while not a version of the story I'm begging for, could be a charming and entertaining thing.
And there's also a man with a literal ass for a face.
The trailer doesn't focus on plot, but here's the gist for those of you who are unfamiliar with the play: a sprawling cast of characters have one very long night in the woods as star-crossed lovers, bumbling actors, scheming creatures, and the king and queen of the fairies all intersect and endure a series of surreal, romantic, and frequently hilarious machinations and misadventures. It's my favorite of Shakespeare's comedies, specifically because the fantastical elements inform so much of the story and give it a flavor not seen in much of his other work.
So while this new version of A Midsummer Night's Dream could be a fun thing, I wonder how that stripped-down indie aesthetic will actually serve the play. This approach worked okay for Joss Whedon's frothy, micro-budgeted version of Much Ado About Nothing that he literally filmed in his house with his friends, but that's a story set in only a handful of locations. I'm intrigued to see how this one turns out.
While the show has been adapted for film several times over the past century, the most widely seen version is probably the 1999 movie directed by Michael Hoffman. It's okay – there's still plenty of room for a definitive version, though.