'Silicon Valley' Review: The Most Awkward Moment In 'The Keenan Vortex'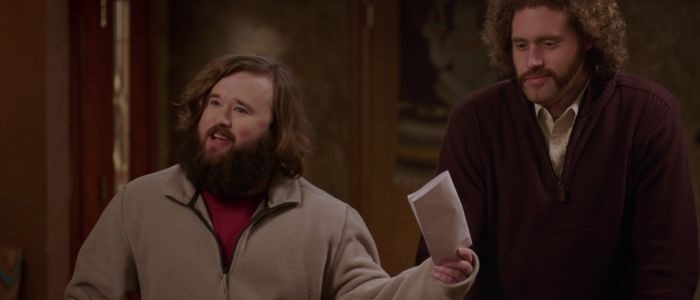 (Each week, we're going to kick off discussion about Silicon Valley season 4 by answering one simple question: what was the most awkward moment of the week?)In any other episode, Richard Hendricks dabbing after delivering a terrible pun at the end of a business pitch would easily be the most cringe-worthy moment. Watching this dorky guy embarrass himself yet again is almost even worse than when Paul Ryan did it, and with even less of the self awareness.
But here, Richard does that right before trying out a new VR headset (created by a character played by Haley Joel Osment) and immediately vomiting all over the place. Only you, Richard. To his credit, he had warned them that he gets queasy and how did everyone else really think he was going to do, anyway? Richard can barely take this reality.
Haley Joel's Orbit
The Keenan Vortex of the episode title is centered around Keenan Feldspar (Osment), the Valley's latest boy du jour. He's got a VR headset that's supposed to be amazing and he may be Pied Piper's only chance to stay alive. They're freaking out because they've exceeded their monthly server budget in a mere four days. This is because California is in the grip of some unseasonable weather, which is why they're all wearing absurd winter clothing.
Personal side note: I visited L.A. a few years ago when it was in the grip of an unimaginable cold spell (I think it was around 55 degrees) and it's truly a hilarious time to see how people of the area cope, because it's exactly how everyone in this episode does. I saw people huddled around a heat lamp at a bar, blowing on their hands to try and warm them up.
In any case, this unlivable weather means that Pied Piper simply isn't going to be able to afford to keep everything running. That means that their client's data will go down and then they'll be sued by them, and it will be the end of Pied Piper for maybe the 50th time in this series.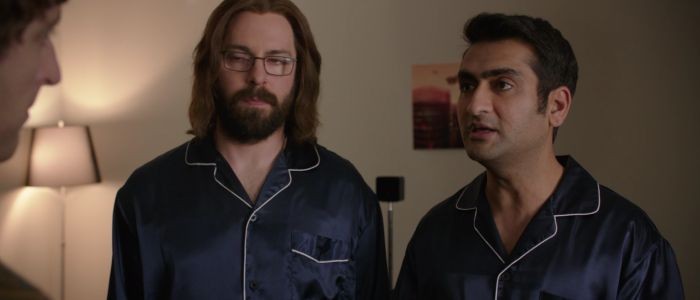 Back, and Forth
So they head to Keenan to pitch handling his data storage needs, and that pitch actually manages to land them the new client. Richard's projectile reaction notwithstanding, the VR tech is apparently amazing, and Gilfoyle and Dinesh decide to hang out at Keenan's house and take advantage of his freshly tapped keg and heated floors.
After hanging out with the manchild for an entire weekend, the duo have managed to squash their mutual hatred so well that they are spotted wearing matching pajamas and talking about how "rad" stuff is.  Truly, the vortex has taken them.
They've also used the Pied Piper algorithm to improve the VR goggles, to the point where Richard is able to use them without yacking all over once again. And now Keenen wants to buy Pied Piper and gives Richard an offer.
Erlich is along for this whole ride, all excited about his role as "key man," which doesn't give him any bonuses except the excuse to stay at his lousy office job. (At his office, he puts up a question mark made of human hair. No one is brave enough to ask whose it is.)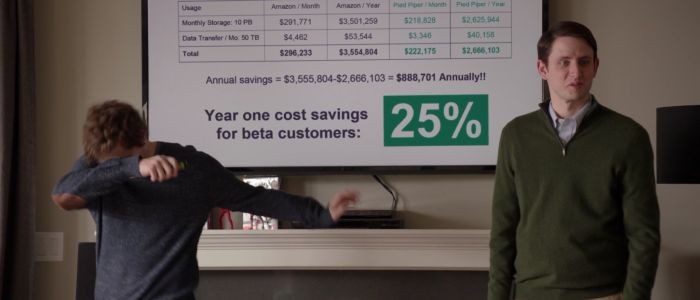 The Black Box
Over at Hooli, Jack Barker is not doing well. The Box 2 was all set to be announced at this year's Hooli Con, which would be his first keynote presentation for the company. Think about Apple and Google's awkward press events, and you'll have an idea of what's at stake here. Barker had plans to be descended to the stage in a giant box, which opens and boom...Jack in the box. And then Mike Tyson and Floyd Mayweather were going to come out and box over the first new box.
But now the box is being delayed for two quarters. What's more, Barker starts watching videos of Gavin Belson's presentations and is in awe of the man's stage presence and raw animal power as he talks into a mic and plays on a laptop.
The Midas Touch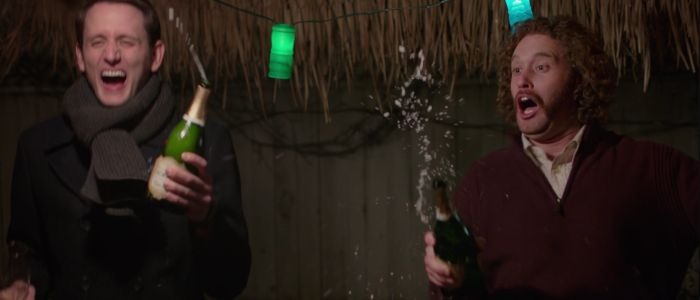 Richard realizes that he doesn't want to deal with  Keenan, since he's a spoiled manbrat who always gets what he wants. So he decides to counter-offer for $25 million, more than the $20 million they managed to snag in funding from Bream Hall. Keenan is shocked and doesn't understand what he's feeling, since he's never felt it before.
The team is pissed that, as usual, everything Richard touches turns to crap... until Keenan shows up with a check for $25 million, and lets them know that they passed on Bream Hall and got triple the funding, all thanks to that idiot "key man" of his.
The team celebrates with champagne and finally, the show is on its way to a new level!
But nope! Once again the Silicon Valley tide ebbs and flows. This season in particular has yo-yo'd more than any, with the Pied Piper team looking like they're finally on their way before having it whisked away from them over and over again.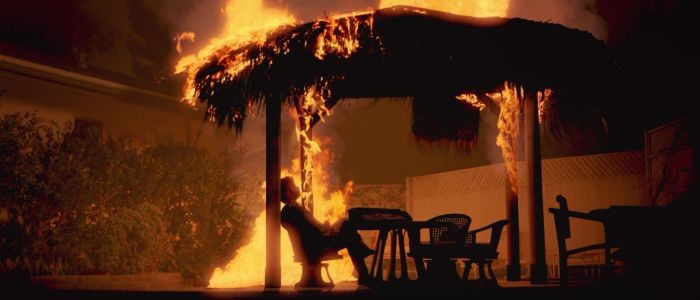 The Status Quo, Once Again
After a discussion with Monica, who tells Richard she's happy they lost Keenan since it's $20 million they don't have to spend (but mostly because Erlich is no longer with them), he realizes he may be making a huge mistake. As Keenan personally told Richard, he's a bullshit artist. The VR tech is wonderful but it only works on $10,000 machines, and since the world is heading towards mobile VR it's going to crash and burn and take Pied Piper with them.
Richard doesn't want to disappoint his troops but he fires off an email to Keenan saying he can't take it. Then he goes inside and does a terrible job of feigning sadness when they tell him that Keenan has actually sold his company for a ridiculous sum – to Hooli. They needed something for their keynote, after all. Keenan even breaks ties with Erlich, who got nothing out of the deal and lost his one job because of it. He does what any rational human being will do after losing millions this many times in a row: he burns down his palapa while sitting in it.
They have two more episodes to get Erlich out of the show, but burning to death wasn't in the plans, so he just sits in the smouldering remains of his palapat. Good thing Jian Yang isn't anywhere to be found.
So now the mounting bills are going to put them out of business. They need 123,000 more phones to get their tech up and running on its own, and there's a quarter of a million people at Hooli Con, and Richard's wheels are turning.
The team is always at their best when they're working together on some unsurmountable problem, and we haven't really had one of those in a while. Let's see if they can stick the landing over the next two episodes.