The Mummy Easter Egg: Tom Cruise's Blink-And-You'll-Miss-It Reference To Brendan Fraser's 'The Mummy'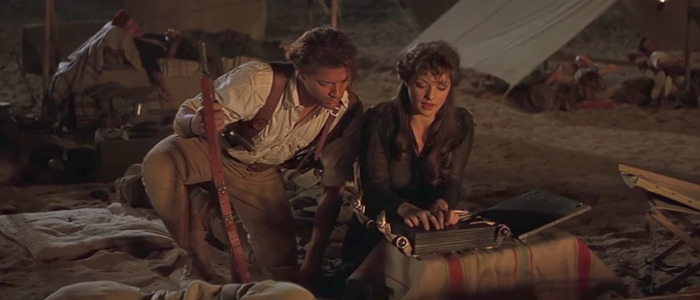 Universal's The Mummy is out in theaters right now and kicks off the studio's planned "Dark Universe" of Marvel-style interconnected films, but it looks like it contains an easter egg that doesn't have anything to do with setting up future movies. This specific shout-out pays tribute to director Stephen Sommers' 1999 take on The Mummy that starred Brendan Fraser and Rachel Weisz. Read on about where to spot The Mummy easter egg if you decide to see the film this weekend.
Inverse spotted the blink-and-you'll-miss-it cameo, and I'll let them explain what it is and when to keep an eye out for it:
At one point in the film, stars Tom Cruise (Nick Morton) and Annabelle Wallis (Jenny Halsey) visit the secret London headquarters of Prodigium, the shadowy group dedicated to studying monsters lead by Russell Crowe's Dr. Henry Jekyll. The headquarters is full of relics and monster paraphernalia, including a severed hand of a Creature from the Black Lagoon in formaldehyde and a fanged vampire skull. The '99 Mummy doesn't get a shoutout until a little bit later, when Jekyll loses control and turns into Mr. Hyde.
As Mr. Hyde wails on Nick, Jenny tries to gain entrance into the room to assist him. A Prodigium employee who has seen Jekyll transform before attempts to stop her. The two scuffle, but eventually Jenny grabs a heavy book and knocks him on the head. There's a brief, brief shot of the book — and it's familiar. It's the Book of the Dead from the '99 Mummy, complete with a star-shaped lock.
Here's a clip:
Now, is this just a simple reference to a film that came before it, or does the existence of this prop technically mean that the Brendan Fraser film took place in the new movie's past? Did Stephen Sommers inadvertently direct a movie that will be retroactively set in the newly-formed Dark Universe? Will future Dark Universe movies incorporate more obvious connections to the '99 Mummy, like ancestors of the O'Connell family as new characters?
I haven't seen the new Mummy movie yet myself, but after reading our review and some quick thoughts from another of our writers who's seen it, it sounds like I'm definitely not missing much. Still, if you're a Tom Cruise completionist who can't bear to miss one of his films on opening weekend, at least now you know how to find something that may have you wistful for days when adventure movies didn't need to build a universe.