Julie Andrews Will Not Appear In 'Mary Poppins Returns,' Here's Why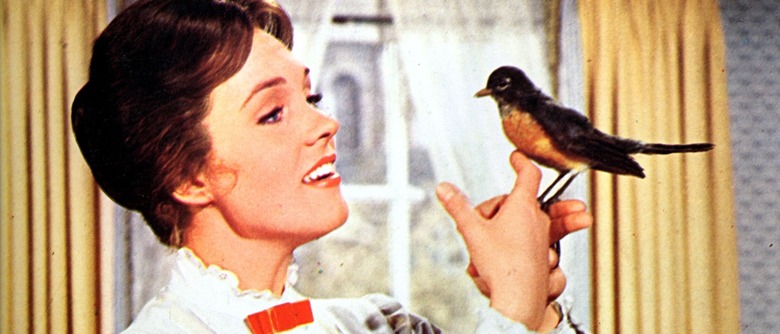 It's been a good week for fans anxiously awaiting any snippet of information they could find about Walt Disney Pictures' Mary Poppins Returns. The studio released a batch of new photos from the movie showing off Emily Blunt as the new (and perfectly cast) Ms. Poppins, as well as our first look at the rest of the cast, which includes Lin-Manuel Miranda, Ben Whishaw, Emily Mortimer, and more.
But there's some bad news for those hoping the new movie would feature the best part of the original. Now we know that Julie Andrews, the woman who made P.L. Travers' beloved nanny a cinematic icon, won't be appearing in the new movie.
Entertainment Weekly spoke with director Rob Marshall (Chicago) and discovered why Andrews won't be cameoing in the new film. It's certainly not because she has any ill will about a sequel being made, or that Blunt is taking over the role – Marshall says Andrews supports the sequel "one thousand percent" and loves the idea of Blunt taking up the mantle:
"She had known it was in the works, then we said, 'We're doing it,' and she said, 'Oh, thank God,'" the director recalls. "Then we said, 'And we're thinking of Emily Blunt,' and she just threw her hands up in the air and said yes. I think a lot of people feel that way about Emily's work."
It turns out the reason Andrews won't be showing up is because she respects Blunt's work so much that she doesn't want to distract from it. Marshall continued:
"Julie was incredibly gracious, and we talked about it in a very general way but she made it clear right up front. She said, 'This is Emily's show, and I really want it to be Emily's show. I don't want it to be, "Oh, here comes that Mary Poppins." I don't want that. I really want her to take this and run with it, because she will be brilliant.'"
On one hand, it may have been nice to see Andrews pop up briefly and put a smile on people's faces, especially since her original Mary Poppins co-star Dick Van Dyke already has a cameo role (but he won't be reprising his role as Bert). But then again, it's nice that the film won't have to come to a complete stop to pay tribute to yet another icon, because that almost never benefits the current story the filmmakers are trying to tell. Andrews knows that a majority of the sequel's audience would be thrilled to see her, even if just for a moment, so the fact that she respects the storytelling enough to take a cameo off the table actually makes me respect her even more.
Mary Poppins Returns arrives in theaters on December 18, 2018.