'First Kill' Trailer: Bruce Willis And Hayden Christensen Buddy Up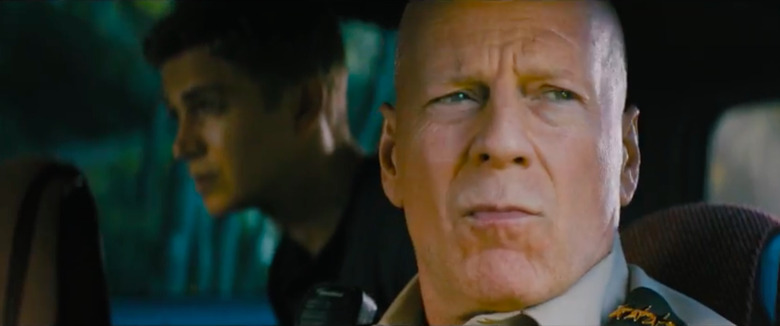 Bruce Willis has three action movies coming out over the next few months. Next week, we can watch him team up with John Goodman for Once Upon a Time in Venice, a movie that doesn't like as fun as its cast. A couple of weeks later, he'll be back in theatres (or on demand) with First Kill. Willis' latest collaboration with director Steven C. Miller, who's currently in post-production on Escape Plan: Hades, co-stars Hayden Christensen as a man whose son (Ty Shelton) gets kidnapped. He may need help from the one and only Bruce Willis and his signature smirk.
Below, watch the First Kill trailer.
Willis starred in Miller's last two movies, Marauders and Extraction. One movie involved the F.B.I., the other the C.I.A. These action-thrillers didn't find many fans with critics, but they more than likely did well on video and overseas. Their new movie stars Christensen as a Wall Street banker whose family vacation goes terribly wrong, and only Bruce Willis can fix it. The father and son witness a murder and get pulled into a bank heist, but there may be more to it than that.
Here's the First Killer trailer:
That song is wildly out of place. The Fugees' "Ready Or Not" was tinkered with and featured in the Mission: Impossible – Rogue Nation trailer, and it felt more than appropriate for that preview. It was a great trailer where the song fit the intensity of the footage. The First Kill trailer doesn't have quite the freneticism or action to make the song stick. The big money shot is of Christensen simply jumping really high over a log. First Kill looks like a thriller the Powers That Be want to sell as an action movie, but we can see for ourselves if that's the case next month.
In order to reconnect with his son Danny (Ty Shelton), big shot Wall Street broker Will (Hayden Christensen) takes his family on a hunting trip to the cabin where he grew up. While out hunting with Danny, the trip takes a deadly turn when they stumble upon several robbers and witness the murder of one of the criminals. After becoming entangled in a bank heist gone bad that results in the kidnapping of Danny, Will is forced to help the kidnappers evade the police chief (Bruce Willis) and recover the stolen loot in exchange for his son's life.
First Kill is available is available on demand July 21.