'Valerian And The City Of A Thousand Planets' TV Spot: Eat Some More Of Luc Besson's Eye Candy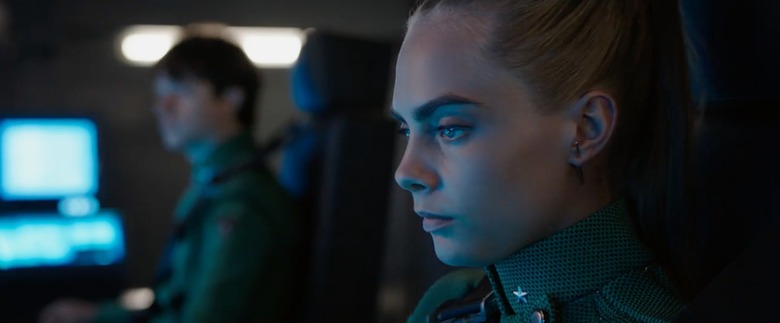 The last trailer for Valerian and the City of a Thousand Planets was the best one yet. There was very little dialogue – it just shined the light solely on the huge world director Luc Besson ,and countless artists have carefully crafted, based on the comic books by Pierre Christin and illustrator Jean-Claude Mézières. In a new TV spot, there are some quick glimpses of some of the exuberant settings they've all created.
Below, watch the new Valerian and the City of a Thousand Planets TV spot.
It's up to Agent Laureline (Cara Delevingne) and Valerian's (Dane DeHaan) to save the city of Alpha, where over 2,000 different alien species reside. The film, which is two hours and 17 minutes long, takes place over the course of 24 hours. During this one hectic day, the two special operatives will cross paths with a space pimp (Ethan Hawke), a dancer (Rihanna), and an alien voiced by John Goodman.
The marketing hasn't appeared to spoil much so far. We know there's a "mystery at the center of Alpha," but what it is we don't know. We also don't know the exact nature of the threat the agents are up against, haven't seen much of Goodman's character, and only recently learned Elizabeth Debicki (Guardians of the Galaxy Vol. 2) signed up to voice an unknown character. The trailers hardly even tease Laureline and Valerian's romance. The trailers have sold us on Besson's big sci-fi adventure by telling us less about the story and showing us more of the world – which looks gorgeous.
VALERIAN AND THE CITY OF A THOUSAND PLANETS is the visually spectacular new adventure film from Luc Besson, the legendary director of The Professional, The Fifth Element and Lucy, based on the ground-breaking comic book series which inspired a generation of artists, writers and filmmakers. In the 28th century, Valerian (Dane DeHaan) and Laureline (Cara Delevingne) are a team of special operatives charged with maintaining order throughout the human territories. Under assignment from the Minister of Defense, the two embark on a mission to the astonishing city of Alpha—an ever-expanding metropolis where species from all over the universe have converged over centuries to share knowledge, intelligence and cultures with each other. There is a mystery at the center of Alpha, a dark force which threatens the peaceful existence of the City of a Thousand Planets, and Valerian and Laureline must race to identify the marauding menace and safeguard not just Alpha, but the future of the universe.
Valerian and the City of a Thousand Planets opens in theatres July 21.