'Gypsy' Trailer: Naomi Watts Stars In Netflix's Salacious New Drama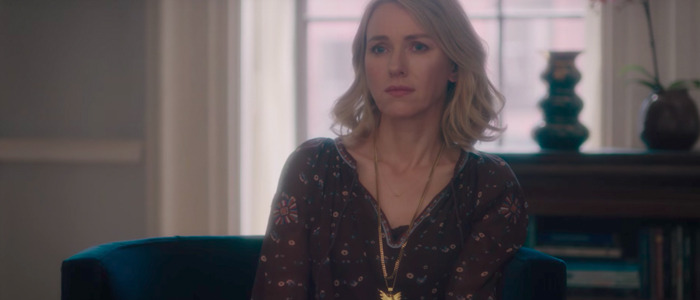 Oscar nominee Naomi Watts is one of approximately 200 characters to appear in David Lynch's Showtime revival of Twin Peaks, but very soon she'll step back into the spotlight and lead her own mysterious drama. Netflix has unveiled the first full trailer for Gypsy, in which Watts plays a therapist who crosses the line with her patients and gives in to her desires, throwing her family life into utter chaos.
Gypsy trailer
Our own Jacob Hall mentioned picking up on a whiff of Watts' breakout performance in Mulholland Drive when he wrote about this show's teaser trailer, and those parallels are even more explicit in this full-length look at the show: the woman who seemingly has it all together, the exploration of identity, and the line, "I guess I feel like I've been living my life as two people...I don't know which one is real" hammer that comparison home. Gypsy may not have the surreal touches Lynch is known for, but the idea of turning over a picturesque life and examining the ugly truth underneath it is about as Lynchian as it gets.
It's certainly not fair to hold first-time creator/showrunner Lisa Rubin to such a high standard, but it'll be fascinating to see if she can carve out her own corner of the psychological thriller genre here and give us something we've never seen before. Watts appears to be diving headfirst into this material and looks to be delivering a manic performance that should ratchet up the tension as the thriller elements of this show reveal themselves. The always-reliable Billy Crudup (Almost Famous, Alien: Covenant) co-stars as the husband frustrated with his wife's behavior. Kingsman: The Secret Service star Sophie Cookson is also along for the ride, as is The Night Of and House of Cards alum Poorna Jagannathan, who seems to be playing someone who knows Watts' secrets. And after being introduced to Lucy Boynton through her excellent work in last year's musical Sing Street, I'm excited to see exactly how she contributes to this concoction as well.
The first season of Gypsy arrives on Netflix on June 30, 2017.
Gypsy is a ten-part psychological thriller that follows Jean Halloway (Naomi Watts), a Manhattan therapist with a seemingly picturesque life who begins to develop intimate and illicit relationships with the people in her patients' lives. As the borders of Jean's professional life and personal fantasies become blurred, she descends into a world where the forces of desire and reality are disastrously at odds.