New 'Spider-Man: Homecoming' Spot: The Webslinger Already Has Fans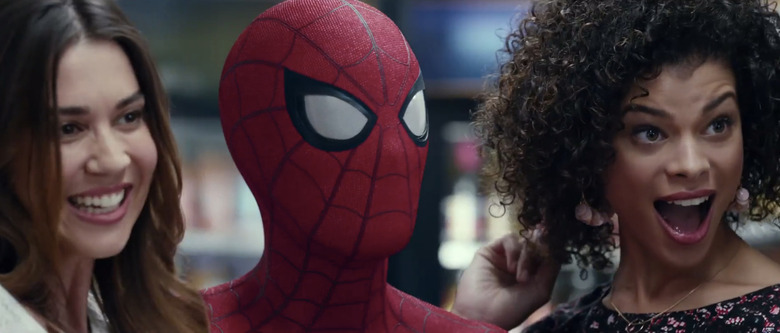 Continuing the onslaught of marketing between now and the release of Spider-Man: Homecoming next month, a new promo for the film that aired during the NBA Finals has arrived online, continuing the narrative of Peter Parker (Tom Holland) being invited to Tony Stark's party for the big games.
In the last Spider-Man Homecoming NBA Finals spot, Spidey was sent out by Happy Hogan (Jon Favreau) to get snacks for the party, specifically for Tim Duncan for some reason, but ended up having to thwart a robbery. In the new spot, the wallcrawler has finally arrived at a generic bodega to get the snacks, and he runs into a familiar face, as well as some fans.
Watch the latest Spider-Man Homecoming NBA Finals spot below.
When Spider-Man finally gets in the store to make a purchase, the person in line in front of him is none other than DJ Khaled, who is also going to Stark's party. While waiting in line, a couple girls ask DJ Khaled if they can get a picture, and they end up wanting to get a snapshot with Spider-Man instead of him. I would do the same thing in their position, especially since I would never believe that DJ Khaled was actually shopping at a bodega in NYC.
These NBA Finals promos are fun, but I'd like to point out that Spider-Man is terrible at picking up snacks. He grabbed plain saltine crackers from the shelf and that's it. Happy Hogan told him to get the fundamentals, but nothing fancy. That should mean something like regular potato chips and dip, or tortilla chips and salsa, or at least some damn Cheetos. Maybe this is something that will be an issue once Spidey finally makes it back to Tony Stark's party? Surely, we'll find out sooner than later.
There were rumblings that DJ Khaled would have a cameo in Spider-Man: Homecoming when this photo emerged:
.@djkhaled, @TheRealStanLee, and @TomHolland1996 filmed an MCU-related scene together yesterday! pic.twitter.com/fOqXA0zsYi

— MCU – The Direct (@MCU_Direct) April 27, 2017
However, now that we've seen NBA Finals spots for the movie with both Stan Lee and DJ Khaled, I'm betting that this is what they were shooting instead of something that will appear in the actual movie. Surely Stan Lee will still appear in Spider-Man: Homecoming, but I can't imagine DJ Khaled having a cameo without sticking out like a sore thumb. We'll find out next month.
For more Spider-Man hype, check out this new international trailer (with footage we've mostly already seen):
A young Peter Parker/Spider-Man (Tom Holland), who made his sensational debut in Captain America: Civil War, begins to navigate his newfound identity as the web-slinging super hero in Spider-Man: Homecoming.  Thrilled by his experience with the Avengers, Peter returns home, where he lives with his Aunt May (Marisa Tomei), under the watchful eye of his new mentor Tony Stark (Robert Downey, Jr.). Peter tries to fall back into his normal daily routine – distracted by thoughts of proving himself to be more than just your friendly neighborhood Spider-Man – but when the Vulture (Michael Keaton) emerges as a new villain, everything that Peter holds most important will be threatened.
Spider-Man: Homecoming is set to open on July 7.