Neill Blomkamp's Incredibly Honest Take On The Failure Of 'Chappie'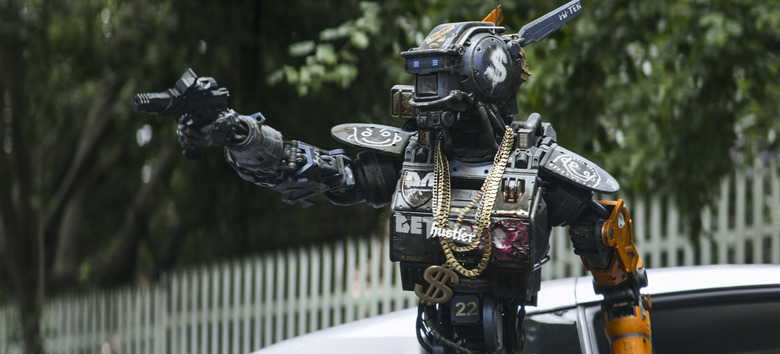 Every director has their hits and misses, and Neill Blomkamp is no exception. After exploding on the scene with his revelatory 2009 alien movie District 9, all eyes were on Blomkamp. He followed up with rumors about Halo and Alien movies, and two middling sci-fi films in 2013 and 2015, Elysium and Chappie. Both were blasted by critics and received tepid reactions at the box office, but only the criticism to one still stings Blomkamp to this day: Chappie.
Chappie was an intensely personal film for Blomkamp, and one that he came out of believing that he had nailed the vision he had for this film. So he was shocked by the scathing reviews, and he revealed that they still haunt him two years later.
Blomkamp has rebounded from the failure of Chappie with an experimental short film studio, Oats Studios, that he has been promoting aggressively. Recently, he sat down with Den of Geek for a candid conversation about his past work, and why the failure of Chappie was so affecting. Here's a choice quote:
"Chappie was unbelievably painful for me. That was difficult on several levels. But the thing with Chappie was, it felt like it was extremely close to the film I had in my head. Up until the film came out, I felt like I had given my all, and that I'd tried my hardest to make the film I had in my head, and I felt like I achieved that. [...] But I'm still upset the fact that it didn't work. I wish that it did, but it just didn't, and I still love it. I don't know what else to say, but the audience didn't get what I was going for. It didn't work."
Chappie followed a naive, artificially intelligent robot (played by Sharlto Copley) that gets separated from its creator (Dev Patel) and is raised by two gangsters to become a violent outlaw. The film received a 33% rating on Rotten Tomatoes and floundered at the box office with a mere $31.6 million domestic haul.
The interviewer, who was quite obviously one of the few defenders of Chappie, compared Blomkamp's film's "failure" to the initial reactions that now-sci-fi classics Starship Troopers and Blade Runner received on release. The audience obviously missed the point about the themes of nature vs. nurture, Den of Geek's Ryan Lambie said.
"There are millions of things that were missed," Blomkamp admitted, saying that the film was misread as an artificial intelligence film. "It's not about AI. Ex Machina's about AI. Chappie's not about artificial intelligence — it's meant to be asking questions about what it means to be sentient."
In the end, Blomkamp said that while he may have made the film true to his own vision, he may have failed as a director in communicating that vision to his audience. But he still holds Chappie as important to him, unlike Elysium, which he said deserved some of the criticism:
"We could go on for hours about Chappie and where it sits. But it definitely hurt several parts of my career, I think. Those are all secondary to just the repositioning myself as an artist and just thinking about that. I mean, Elysium, I didn't feel that way. I feel like Elysium wasn't actually that good. That's the difference. I feel like I got it right with Chappie, and then when the audience turns on you, that puts you in a different place."
Blomkamp may still be smarting from the reception to Chappie for a while, but at least he can still make headlines and waves with his buzzy Oats Studios. And his stumble with Chappie hasn't deterred him from going back to feature films, with reports that he's bouncing around an idea for a District 9 spin-off. The legacy of Chappie may be tainted, but Blomkamp's is just getting started.