'Stranger Things' Season 2 Will Be Darker And 'Very, Very Disturbing'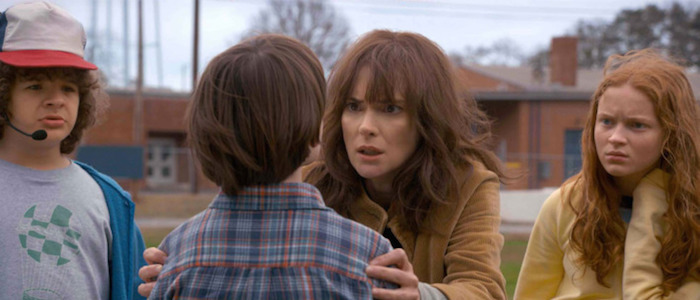 True to the Halloween release of Stranger Things season 2, the new season will be "darker and more eerie" than the first season of Netflix's surprise genre TV hit.
The hints at a darker season 2 will keep coming — I'm pretty sure this is the 10,000th time I've heard it called "darker" —  but it wasn't until now that the cast and crew of the '80s-set horror show specified that much of that dark stuff happens to a specific character. Which, in this case, I'm not here for because we need to protect everyone on this precious show.
Which character is going to suffer the most? You (probably) guessed it: It's Will Byers (Noah Schnapps).
The poor boy spent a whole season evading the Demogorgon in the Upside Down and when all seemed to be safe, he coughed up an evil-looking slug in the season finale. And things just aren't looking up for him in the second season.
"Something happens to Will in the first couple of episodes that's very, very disturbing," Finn Wolfhard (Mike) told TV Line at Netflix's FYSee Space in Beverly Hills on Tuesday. Some "flat out scary" stuff happens to Will, Wolfhard said.
So how will his friends — who spent the entire first season searching for him — react to Will's post-traumatic stress from the Upside Down? They are well aware that something has changed about Will since his return, but are reluctant to say anything about, said Gaten Matarazzo (Dustin):
"They know he is not well. But they are just trying to pretend [nothing] happened."
But the leader of the group may also have his mind elsewhere. Mike is "kind of somber" after Eleven seemingly sacrificed her life to save them at the end of season 1. "He's kind of given up on life," Wolfhard said. "He has no one to fight for until, slowly as the season progresses, he [becomes] more and more like [the] leader he was in the first season."
The showrunners of Stranger Things promise that while the "horror is more up-close and personal" in the second season and the new monster will get more screentime than the Demogorgon, the show will still have the moments of levity and charm that endeared it to so many viewers the first time around.
Season 2 "maintains that sense of fun, which was so important to the first season," says Matt Duffer, who created Stranger Things with brother Ross Duffer. "We didn't want to lose that sense of wonder."
Here's a short synopsis of season 2, courtesy of Entertainment Weekly:
Stranger Things season 2 begins nearly a year after the first installment, on Halloween in Hawkins, Indiana. (The boys are going as the Ghostbusters, naturally.) Will has rejoined his pals after being rescued from Things' alternate dimension, the Upside Down. But all is not well with young Mr. Byers, as evidenced by the slug he coughed up in season 1's final moments.
The second season of Stranger Things will premiere on Netflix on October 31, 2017.