Now Stream This: A New Disney Classic, Some Horror Classics, And The Softer Side Of John Carpenter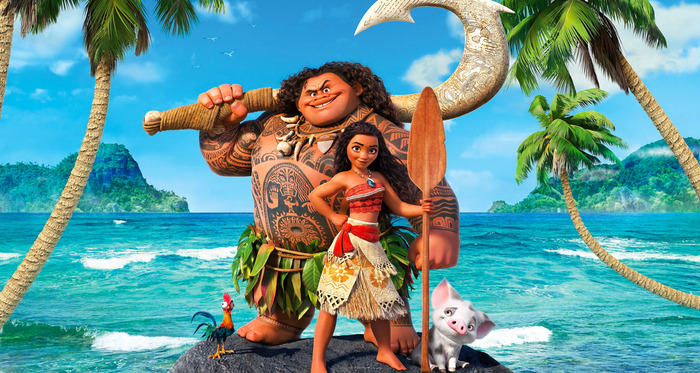 (Welcome to Now Stream This, a column dedicated to the best movies streaming on Netflix, Amazon, Hulu, and every other streaming service out there.)
It's time for another edition of Now Stream This, where all your dreams can come true – provided your dreams involve belonging to multiple streaming services. In this edition, we've got a new Disney classic, an old Nicolas Ray classic, some creepy puppets, and a baby-faced Jeff Bridges. There's also a glimpse at some humble beginnings as we look at two debut films from two directors who have new movies in theaters this month.
Streaming on Netflix June 20
It feels like Moana should've been a bigger deal. Sure, it did well at the box office, but a lot of Moana's limelight was stolen by the other big Disney animated film of 2016, Zooptopia. Zootopia is a very good animated film, but Moana outshines it in every respect. The story of a teenager who dares to venture beyond the shores of her island in search of a demigod, Moana bursts will color and features a rather uplifting message along the way. With wonderful songs from Lin-Manuel Miranda and Opetaia Foa'i and two stellar vocal performances from Auli'i Cravalho and Dwayne Johnson, Moana is the type of Disney film that will stand the test of time. If you somehow missed this slice of magic in theaters, it's hitting Netflix before month's end. Just don't be surprised if you end up with the songs stuck in your head for weeks to follow.For fans of: Frozen, Tangled, Hamilton, Dwayne Johnson's surprisingly strong singing skills.
Now Streaming on FilmStruck
Nicholas Ray's bleak, brilliant 1950 film noir In a Lonely Place features arguably the best performance of Humphrey Bogart's career. Bogart became iconic playing tough guys, but in In a Lonely Place, he's more raw, more vulnerable, more damaged. Bogart plays a washed-up screenwriter who becomes the suspect in the murder of a hat-check girl (hey, we've all been there, right?). His neighbor (Gloria Grahame) unexpectedly provides an alibi for Bogart, and the two strike up a romance that becomes bogged down in suspicion and deceit. This is a twisty, intense, immensely watchable film that will leave you shaken when the screen fades to black; a perfect mix of noir and melodrama.For fans of: Sunset Boulevard, Double Indemnity, depressing denouements.  
Now Streaming on Amazon Prime Video
To prepare yourself for Trey Edward Shults' highly disturbing It Comes at Night, which opens in theaters this weekend, take a look back at his feature film debut, the almost equally disturbing Krisha. Krisha isn't strictly a horror film the way It Comes at Night is, but Shults ratchets up more tension and anxiety here than almost an entire year's worth of horror movies. Krisha (played by Shults' aunt Krisha Fairchild), the black sheep of the family, returns home for Thanksgiving, and we can tell from the first frame that it's only a matter of time before something terrible happens. Shults filmed Krisha in 9 days, using real family members to fill out the cast, and created something truly stunning in the process.For fans of: John Cassavetes, Margot at the Wedding, Ordinary People, anxiety.
Streaming on Shudder June 8
Rodney Ascher, director of horror-themed documentaries Room 237 and The Nightmare, delivers his most effective film to date with the short but memorable Primal Screen, which will premiere exclusive on Shudder June 8. Ascher's film examines a group of people who suffer from automatonophobia,the fear of wax figures, humanoid robots, audio animatronics, or other figures designed to represent humans. The film primarily focuses on how these people reacted when they saw the creepy trailer for Richard Attenborough's 1978 thriller Magic, which featured Anthony Hopkins and a very unsettling ventriloquist dummy. Ascher's other docs had interesting ideas, but they seemed to drag on and on and grow repetitive. Here, working with a much shorty format that implies the first in a series of TV episodes, Ascher is much more effective.For fans of: Dead Silence, Magic, the scary dead eyes of ventriloquist dummies.
Now Streaming on Amazon Prime Video
Patty Jenkins is currently reigning supreme at the box office, and rightfully so, with Wonder Woman. Jenkins made her directorial debut with 2003's Monster, a harrowing portrait of real-life serial killer Aileen Wuornos. Charlize Theron underwent a dramatic physical transformation to portray Wuornos, and won a Best Actress Oscar in the process. The film does not downplay nor excuse Wuornos' crimes, yet it also strives to find some sort of understanding of who she was as a person.  "What I decided to do was to see Aileen Wuornos' story this way. The way the movie is," Jenkins said at the time of release, "That was how I saw it. I saw that she had killed seven people, and I knew that she had done it, and that she had ruined peoples' lives, and there was no inching away from that. I also felt heartbroken of the life that she had to live leading up to that, and I saw this kind of simple struggle that led to all of this. So tonally, I just stay true to my own heart."For fans of: Henry: Portrait of a Serial Killer, Dracula's Daughter, unpleasantness.
Now Streaming on Mubi
No, not the one with Nicolas Cage and the bees. This is Robin Hardy's 1973 cult classic, featuring one of the most shocking endings ever committed to film. Edward Woodward plays a police sergeant and devout Christian who travels to the island of Summerisle to investigate a girl's disappearance. There he encounters pagan rituals, strange locals, and Christopher Lee. "Essentially, one must think of The Wicker Man, as a game, with clues gradually suggesting Summerisle is not run in accordance with Christian values of Howie," said director Hardy. It's a chilling movie that plays with your mind as it unfolds. Hardy also directed a "spiritual sequel" to the film called The Wicker Tree, released in 2011. Avoid it at all costs!For fans of: The Witch, Shutter Island, Don't Look Now, pagan rituals.
Now Streaming on Netflix
Universal Pictures are launching their big "Dark Universe" this weekend with The Mummy, the (supposed) first in a series of of interconnected films that reboot the classic Universal Monsters. Sadly, the film is a big, sloppy mess with no regard for the classic films that inspired it. If you'd rather have a much-more adoring homage to the black and white horror classics of old, you can't go wrong with Mel Brooks' hilarious Young Frankenstein. Brooks both sends-up and pays loving tribute to Universal's Frankenstein films, with the late, great Gene Wilder giving one of the best performances of his career as the manic young Frederick Frankenstein (that's Fronkensteen). Skip The Mummy – stay home and watch this instead.For fans of: Frankenstein, Bride of Frankenstein, Blazing Saddles, Abby Normal.  
Now Streaming on FilmStruck
Jacques Tourneur helms this horror classic from legendary producer Val Lewton, a chilling, mysterious movie that received mixed reviews upon arrival in 1942, only to go on to classic status over the years. Simone Simon plays a Serbian immigrant and fashion-designer who fears she'll turn into a cat the moment she becomes sexually excited (hey, we've all been there, right?). This is a subtle, shadowy film that works its way under your skin. You'll understand why it became renowned the moment you start watching it.For fans of: I Walked With a Zombie, Rosemary's Baby, Cat People (1982), YouTube cat videos.
Streaming on Hulu June 17.
After the dour Star Trek Into Darkness, the nu-Trek franchise bounced back nicely with the entertaining Star Trek Beyond. Director Justin Lin energized the crew of the USS Enterprise with a galaxy-trotting adventure that almost never slows down to catch its breath. The key element of this film, as with the other two in the franchise, is how darn likable the cast is. There's also a bit of bittersweetness at play here, as Beyond features one of the final performances of the late Anton Yelchin.For fans of: Star Trek (2009), the Fast & the Furious franchise, Sofia Boutella kicking some ass.
Now Streaming on Hulu
John Carpenter may be more renowned for his intense horror films, but he showed a softer side with the 1984 romantic sci-fi film Starman. Jeff Bridges plays an alien who assumes the form of Karen Allen's recently deceased husband (hey, we've all been there, right?). The pair set off on a cross-country adventure, with a tender romance blooming along the way. This is not your typical Carpenter joint, and people only familiar with his work through Halloween or Big Trouble in Little China might be startled to see a side of the filmmaker they may have never knew existed.For fans of: Midnight Special, E.T., young Jeff Bridges.