Donald Glover Says Playing Lando Calrissian Is One Of His "Favorite Experiences Ever"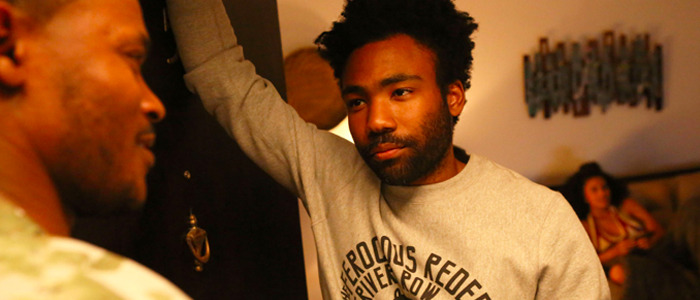 It feels like Disney and Lucasfilm's young Han Solo Star Wars spin-off film has been shooting for ages already, and we still don't even know what the official title is yet. We know Alden Ehrenreich (Hail, Caesar!) is playing the cocky young smuggler, but right now, it seems as if there might be even more interest surrounding actor/rapper Donald Glover's portrayal of Han's pal Lando Calrissian, the former owner of the Millennium Falcon. Glover hasn't spoken much about stepping into the role famously played by Billy Dee Williams, but in a new interview, he opens up about the "complicated" character and describes how the experience has been so far. Spoiler alert: he's loving it.
Deadline spoke with Glover on the set of Han Solo, and asked how he's finding the experience of playing Lando:
"This is probably one of my favorite experiences ever. For working under, like, a huge conglomerate, it's actually been quite an enjoyable, artistic thing. I get to play him in a way that I think is honest and true and cool. And it's great 'cause I didn't have to write anything, I'm focused strictly on being this guy. And I really respect him and I respect the actor who played him before. I've learned a lot about this character, so it's actually been really fulfilling and nice to just turn off everything else and focus on just being someone."
It's clear Glover respects Williams, since the two met a few months ago to chat about his approach to the character. I'm glad to hear he's enjoying himself, and coming on the heels of making a '70s-inspired funk album under his Childish Gambino moniker and creating, acting in, and directing some episodes of the award-winning FX series Atlanta, I can see how he'd want to rest those creative muscles for a little bit and just concentrate on acting.
Lando Calrissian is one of the slickest, most charming characters in sci-fi film history, and Glover realizes that a big part of his appeal is that audiences don't always know exactly where his allegiances always lie:
"Lando seems to be a lot of people's favorite character. It's cool. It's a lot of pressure, but it's also very exciting. He was my favorite character too. I grew up on Star Wars. It's just cool to see him again. I feel like people like him 'cause he has a lot of style, but also he's a complicated character in this world. I think even Han isn't as complicated as Lando is. From the first time you meet him, you don't know whether to trust him or not, and you're constantly not knowing whether to trust him. I like that about him."
Han Solo: A Star Wars Story (or whatever it ends up being called) is directed by Phil Lord and Chris Miller, and it soars into theaters on May 25, 2018.