At The 18th Annual Golden Trailer Awards, 'Wonder Woman' Reigns Supreme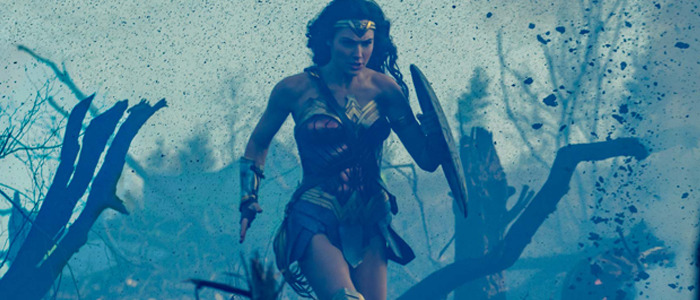 Fun fact: when he was a little kid, Wayne Brady (Whose Line is it Anyway?) used to pretend to be Wonder Woman when he was recreating adventures from the classic animated TV show Super Friends with his pals. You can learn some strange things at an off-the-beaten path Hollywood awards show, and last night's 18th annual Golden Trailer Awards certainly fit the bill. A celebration of the best movie trailers of the past year, the GTAs are essentially the Oscars for the overlooked: they're awards for the editors and creative teams who produce the trailers, teasers, and TV spots that put asses in seats for major Hollywood blockbusters.
I attended the ceremony for the first time last night (why I was there is the subject of another article!), so read on for the list of winners and my inside account of what went down.
The ceremony was held at the historic Saban Theater in Beverly Hills, a beautiful art deco theater on Wilshire Boulevard, and like any good awards show, it began with an open bar. The theater's capacity is nearly 2,000, and before the show started, the lobby area was full of editors, assistant editors, and creative execs bustling around and drinking movie-themed drinks from the bar. The organizers of this show went all out: there was a food spread, and a photo opportunity where you can hold an actual Golden Trailer award (which is way heavier than it looks). Create Advertising set up a virtual reality station where attendees could don a VR headset and participate in experiences based on movies like Ghostbusters and The Walk, the latter of which /Film's Peter Sciretta sampled during his visit to the flagship IMAX VR Centre earlier this year.
Wayne Brady returned as the host of the ceremony this year (he hosted last year as well), and after we all watched a sizzle reel recapping the year in trailers, he kicked things off with a song of his own:
From the beginning, Wonder Woman was a focus of the show. Brady spoke briefly about his love of superhero movies and for that character in particular, perhaps foreshadowing the excellent night to come for the marketing teams that worked on her film. He also briefly pulled a guy from the front row up on stage to participate in an improvised Wonder Woman theme song, forcing the guy to describe facets of the character that didn't have anything to do with her beauty. (The crowd laughed when, after running out of adjectives, the guy described her as, "Nice?")
Brady was an engaging and entertaining host, dropping occasional one-liners ("This might be the night where a male editor can get laid!") and lightly mocking the short, shy speeches given by the award winners. Seriously, these acceptance speeches were some of the shortest you'll ever hear, and it was abundantly clear that the people in this room were far more comfortable cooped up in an edit bay than being on stage in front of hundreds of their peers.
Some scattered highlights from the show:
The woman next to me screaming loudly in terror during a scene from the Annabelle: Creation trailer in the Best Horror Trailer category.
A small, five-person firm named Rogue Planet winning Best Animation/Family Trailer for their work on The LEGO Batman Movie, upsetting a much larger company that worked on Beauty and the Beast.
The Golden Fleece Award, given to the trailer that makes a crappy movie look much better than it really is. Remember Matthew McConaughey's Sea of Trees? That trailer was nominated; I completely forgot that film existed. Also a nominee: the Jamie Foxx action film Sleepless. That one hit close to home for Brady, who joked, "Who in this room worked on Sleepless? Screw you." (He was apparently fooled by the effectiveness of the trailer.) Resident Evil: The Final Chapter ended up winning.
And of course, Wonder Woman winning Best in Show. The excitement for the film was palpable in the room over the course of the night, and with the movie performing so well and being received so well by fans, it was nice timing for the campaign.
You can check out the full selection of winners here, but I'll drop a few of my favorites below.
Best Of Show
Wonder Woman, Warner Bros., Open Road Entertainment/AV Squad
Best Action
Baby Driver, Sony Pictures Entertainment, Create Advertising London
Best Comedy
The House, New Line Cinema, mOcean
Best Documentary
I Am Not Your Negro, Amazon Studios/Magnolia Pictures, Mark Woollen & Associates
Best Drama
Dunkirk, Warner Bros., Buddha Jones
Best Fantasy /Adventure
Wonder Woman, Warner Bros., Open Road Entertainment/ AV Squad
Best Horror
IT, New Line Cinema, Buddha Jones
Best Independent Trailer
Manchester By The Sea, Amazon Studios/Roadside Attractions, Mark Woollen & Associates
Best Music
Logan, 20th Century Fox, Rogue Planet
Best Summer 2017 Blockbuster Trailer
Atomic Blonde, Universal/Focus, AV Squad
Best Teaser
Blade Runner: 2049, Warner Bros., Wild Card
Best Thriller
A Cure for Wellness, 20th Century Fox, Trailer Park, Inc.
Most Original Trailer
The Nice Guys, Warner Bros, Big Picture
Trashiest Trailer
Bad Santa 2, Broad Green Pictures, mOcean