'Wonder Woman' Star Robin Wright Is Returning To The DCEU In 'Justice League'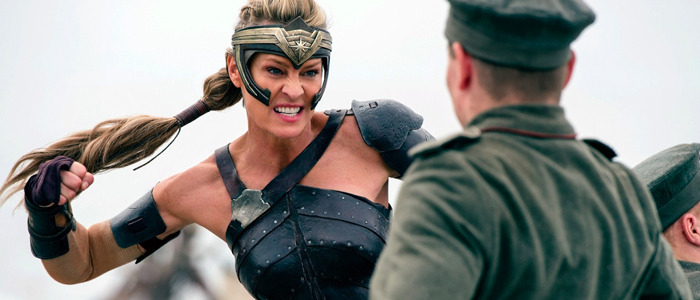 Did you enjoy Robin Wright's performance as the hard-hitting General Antiope in Wonder Woman as much as the rest of the world did? Then you're likely still riding a high from the film, and Warner Bros. is looking to extend that excitement all the way through November. Wright will be reprising her role as the tough-as-nails warrior (and Diana Prince's aunt) in Zack Snyder's Justice League later this year.
Get the latest Robin Wright Justice League details below.
Warning: spoilers for Wonder Woman ahead.
We knew that Connie Nielsen, the actress who plays Hippolyta (Wonder Woman's mother), would be popping up in Justice League, but thanks to a new interview with the L.A. Times, we know that all three women will have parts in the next DCEU movie. When asked if fans will eventually see more of the relationship between Hyppolyta and Diana, the actresses responded:
Gadot: Of course; the mother and daughter relationship is always a beautiful but complex relationship. I think that there's a lot more to explore.
Nielsen: And [Wright and I] got to do more in "Justice League" as well. As sisters as well. Kind of badass as well. We can't say much, but ...
Wright: And more of the story, you get some of the history.
Antiope's death near the beginning of Wonder Woman means she'll be appearing in a flashback. If you look at the 1:55 mark of Justice League's most recent trailer, there's a massive battle involving the Amazonian army facing off against a horde of enemies. Seems like a good bet that battle scene (which could also be a nice way to introduce us to a handful of Atlanteans) is where these characters will show up again.
To list all of the reasons why Patty Jenkins' Wonder Woman is great would take the rest of the day, so for brevity's sake, I'll limit the praise in this article only to the cast. Gal Gadot and Chris Pine absolutely own this movie, but how awesome was it to see a bunch of badass actresses – and not the latest batch pretty young things, but true Hollywood veterans – clad in armor kicking ass on Themyscira? Jenkins has spoken briefly about some ideas for a sequel, but she's not even officially signed on to direct Wonder Woman 2 yet, so I'm relieved that we don't have to wait very long to see these women in action again.