'Transformers: The Last Knight' International Trailer Shows World War II Bumblebee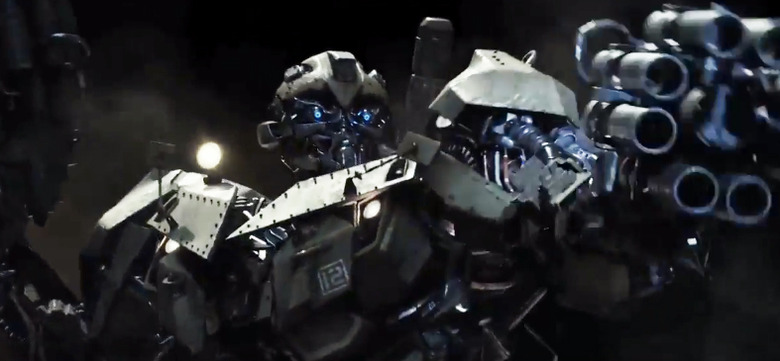 Just when we think we've seen enough from Transformers: The Last Knight, another piece of the marketing campaign comes along to unleash even more Bayhem.
From Japan, a new Transformers The Last Knight TV spot shows off a whole lot of new footage from the sequel, including a shot of Bumblebee (seen above) from when he apparently helped defeat the Nazis in World War II. This movie is going to be the most bonkers installment of the Transformers franchise yet.
Watch the new international Transformers The Last Knight trailer below.
This TV spot is worth watching if only so you can hear Mark Wahlberg say "crazy ninja butler" with a straight face after Sir Anthony Hopkins robot assistant somehow cripples an Autobot that's at least 10 times his size. Wahlberg also gives a quick nickname to Isabela Moner by calling her a "little J. Lo" for her sassy attitude.
On the slight spoiler side of things, we get to see how that shot of Optimus Prime preparing to stab Bumblebee in the face turns out. Of course, even though he misses, that doesn't mean the threat to Bumblebee ends there. Though if I were a betting man, I'm pretty sure they're not going to kill one of the lead Autobots, especially when he has his own spin-off on the way (even though it's set in the past).
Just what kind of impact will this Transformers sequel have on the future of the franchise? If the previous films have taught us anything, it probably won't make much of a dent. But since Optimus Prime did go in search of the reason his makers betrayed him at the end of the movie and he follows up on that self-assigned mission in this movie, maybe we're looking at a more serial storyline.
When all seems lost, a few brave souls can save everything we've ever known. The Last Knight shatters the core myths of the Transformers franchise, and redefines what it means to be a hero. Humans and Transformers are at war, Optimus Prime is gone. The key to saving our future lies buried in the secrets of the past, in the hidden history of Transformers on Earth. Saving our world falls upon the shoulders of an unlikely alliance: Cade Yeager (Mark Wahlberg); Bumblebee; an English Lord (Sir Anthony Hopkins); and an Oxford Professor (Laura Haddock). There comes a moment in everyone's life when we are called upon to make a difference. In Transformers: The Last Knight, the hunted will become heroes. Heroes will become villains. Only one world will survive: theirs, or ours.
Transformers: The Last Knight opens on June 21.