'The Mummy' Star Sofia Boutella Joins The Cast Of 'Fahrenheit 451'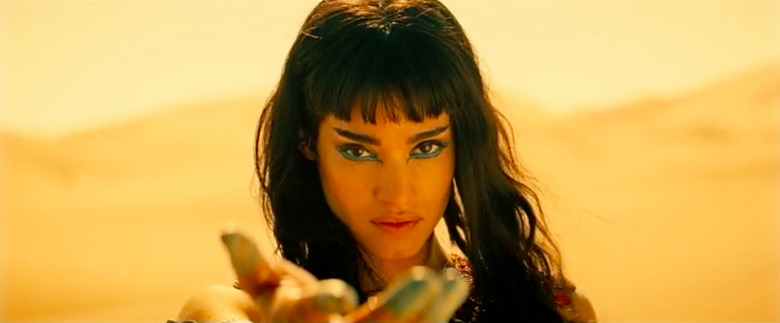 It's strange to think that Sofia Boutella emerged out of nowhere in 2014 to steal the show Kingsman: The Secret Service, and has since then starred in several massive blockbusters, with only more high-profile projects in the future.
Now, Boutella has signed on to play the female lead in the HBO Films' adaptation of Ray Bradbury's sci-fi classic, Fahrenheit 451, also starring Michael B. Jordan and Michael Shannon.
The dystopian novel, published in 1953 and written by genre legend by Ray Bradbury, takes place in a futuristic America where books are outlawed, and "firemen" are tasked with raiding houses and burning books that are discovered. Jordan stars as Guy Montag, a young fireman who becomes disillusioned with the government censorship, and abandons his duty to battle his former mentor and captain, Beatty, played by Shannon.
Boutella will play Clarisse, an informant caught in the conflict between Montag and Beatty, according to The Hollywood Reporter.
Read the synopsis for Fahrenheit 451 below:
Set in the 24th century, Fahrenheit 451 tells the story of the protagonist, Guy Montag. At first, Montag takes pleasure in his profession as a fireman, burning illegally owned books and the homes of their owners. However, Montag soon begins to question the value of his profession and, in turn, his life.
Boutella's breakout role was as Gazelle, the deadly assassin with swords for legs and assistant to Samuel L. Jackson's villain in Kingsman: The Secret Service. It was a star-making role for the dancer-turned-actress, who then went on to play Jaylah in 2016's Star Trek Beyond, and now appears in two buzzy movies this year: The Mummy, opposite Tom Cruise, and Atomic Blonde, opposite Charlize Theron. She will also soon appear with Jodie Foster in Hotel Artemis, which will soon go into production.
Her role in Fahrenheit 451 sounds like another potentially scene-stealing supporting role for her, one opposite another rising star Jordan and seasoned Hollywood vet Michael Shannon.
The adaptation will be helmed by Ramin Bahrani, who directed Shannon in 99 Homes, and co-written by 99 Homes co-scribe Amir Naderi. There's no information whether Fahrenheit 451 will get a theatrical release or if it will only air on HBO, but since it is produced by HBO Films, we can assume the latter.