An 'American Made' Plane Stunt Had Tom Cruise Climb Out Of An Aircraft In Midair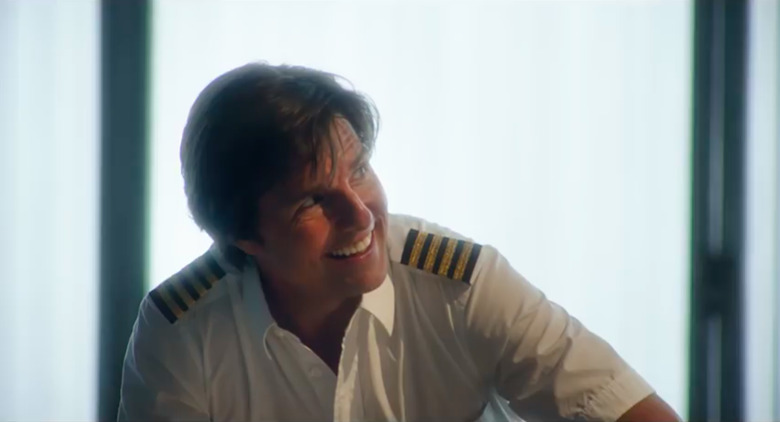 Actor Tom Cruise has been flying for over 20 years. Literally. After Top Gun, he embraced flying as a hobby and worked towards getting his pilot's license in 1994. He's flown some incredible planes, including a World War II fighter jet and a Gulfstream IV with a screening room. With his upcoming film, American Made, not only does he get to fly an aircraft as a part of his day job, but we'll get to see him step outside of one...while it's in the air and occupied by no one else.
Director Doug Liman recently talked all about the American Made plane stunt.
American Made, which is based on a true story about a pilot who was part of some shady covert operations for the CIA, features Cruise spending a lot of time in the cockpit. When Barry Seal is flying in the movie, it's Cruise, even when the character has to step outside of a plane to dump some cocaine. The film won't be the first time Cruise is hanging outside of an aircraft, but first time or not, it's still impressive how far the actor continues to go for our benefit.
Liman told Yahoo! Movies about watching the stunt unfold:
It can be pretty hair-raising – flying extremely fast, small airplanes, low to the ground, is a dangerous environment to be in just on its own. Then, in the story, he's throwing bales of cocaine out of the airplane, loading them up with guns, so every once in a while in this scene he's got to climb out of the cockpit and go to the back of the airplane to dump the cocaine out.
I'm flying alongside him in a helicopter filming, and that made a big impression on me – there's nobody in the cockpit of the plane! Tom has gone to the back of the aircraft, and he's alone in that airplane. It's one thing to have Tom Cruise alone in the airplane flying it – that's already outrageous – now he's alone and he's not even in the cockpit so he's gone beyond. It was already a stunt before he left the cockpit, it was already a serious stunt.
Probably not all actors would be gung-ho about performing such a stunt, but this is a part of what makes Tom Cruise, well, Tom Cruise. Besides always taking some risks, he's always trying to enrich the experience by doing his own stunts. We don't have to suspend much disbelief if he's physically on a motorcycle or flying a plane.
American Made opens in theaters September 29, 2017.