Steven Spielberg's Pentagon Papers Movie Has A Ridiculously Talented Cast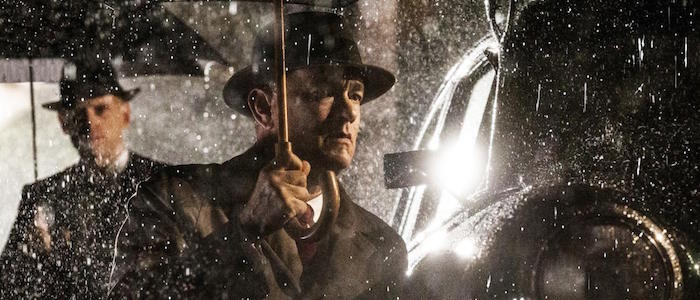 Sometimes director Steven Spielberg can toil away for years trying to find the perfect combination of elements to tell a story, and other times he's able to fast-track the entire process from idea to finished product in less than a year. He's doing the latter with a new film called The Papers (formerly known as The Post): he signed on in March and the movie comes out this December. It tells the true story of the controversial publication of classified documents known as the Pentagon Papers in the early 1970s.
Spielberg had already managed to snag Tom Hanks and Meryl Streep to star, but now he's assembled a spectacular supporting cast to join his heavy hitters, including actors from Mad Men, Breaking Bad, Arrested Development, Fargo, and more. Ain't no party like a Spielberg party. Read who else has come on board the filmmaker's Pentagon Papers movie below.
Variety reports that the cast list now features Alison Brie, Carrie Coon, David Cross, Bruce Greenwood, Pat Healy, Tracy Letts, Bob Odenkirk, Sarah Paulson, Jesse Plemons, Matthew Rhys, Michael Stuhlbarg, Bradley Whitford, and Zach Woods. That is probably one of the most exciting casts in recent memory (and it's surprising just how many genuinely funny people have joined a project that sounds so austere).
The film, set in 1971, centers on The Washington Post's editor Ben Bradlee (Hanks) and its publisher Kay Graham (Streep) as they face off against the U.S. government over the publication of the "Pentagon Papers," a series of classified military documents leaked to the press by a military analyst. The report revealed how President Johnson's administration had lied to Congress and the American people about key details of the Vietnam War, and when Nixon administration attempted to suppress the report, they stood up and fought for the right to share that information with the American public.
Spielberg and writer Liz Hannah have excellent timing with this project because of the modern relevance it has under the Trump administration. As our president continues to wage war against legitimate news outlets like the Post and The New York Times, a movie about journalists pushing back against the bullshit to give people the truth has once again become a political statement. The fact that this ensemble cast has signed on is as close to a guarantee that this'll be an entertaining movie as you can get these days.
You may have seen photos pop up recently of Spielberg, Hanks, and Streep prepping for this movie by attending a Washington Post editorial meeting:
Tom Hanks, and Spielberg, are sitting in on the @washingtonpost news meeting for upcoming movie on Pentagon Papers. pic.twitter.com/IzI0DKqQg6

— David Nakamura (@DavidNakamura) May 25, 2017
Filming is already in progress. The Papers opens in limited release on December 22, 2017 for an Oscar-qualifying run before expanding wide on January 12, 2018.