'Cowboy Bebop' Is Getting A Live-Action TV Series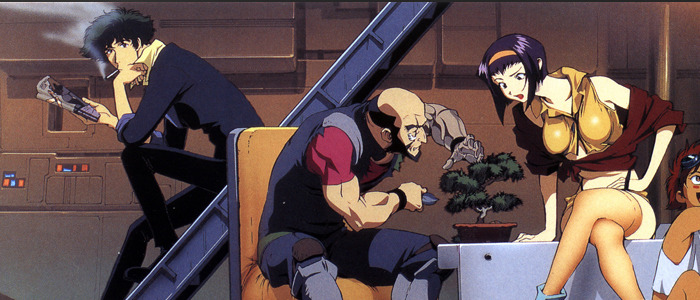 Way back in 2008, Keanu Reeves was pegged to star as Spike Spiegel in a live-action film adaptation of the influential 1998 anime series Cowboy Bebop. An ambitious script was written by Peter Craig (The Town), but it may have ultimately been a bit too ambitious: Reeves speculated it would cost $500 million to film it, and the project eventually faded away.
But Cowboy Bebop is too popular to ignore, and now a new live-action adaptation is in the works: this time, though, it's being devised as a television series.
Variety reports that the live-action version will be executive produced by Sunset Inc., the company who made the original anime, along with Marty Adelstein, Becky Clements, Matthew Weinberg, and a collective referred to as Midnight Radio, which consists of writers Josh Appelbaum (Mission: Impossible – Ghost Protocol), Andre Nemec (Teenage Mutant Ninja Turtles), Jeff Pinkner (Lost), and Scott Rosenberg (Con Air). Thor: Ragnarok screenwriter Christopher Yost will write the new iteration of this series.
Directed by Sinichiro Watanabe and written by Keiko Nobumoto, Cowboy Bebop is set in the year 2071 A.D. after a cataclysmic astral gate accident has scattered humanity across the solar system. Bebop follows a group of bounty hunters, called "Cowboys," on the spaceship Bebop, focusing on Spike Spiegel, a bounty hunter and a former member of the Red Dragon Crime Syndicate haunted by the memory of his time in that organization. Take a look at this trailer:
Confession: despite the fact that this series is one of the most beloved anime titles of all time; that it aired constantly on Adult Swim when I was in college; and that it spawned an animated movie, two manga series, and two video games; I've somehow managed to go my entire life without seeing anything Cowboy Bebop-related. I know. The shame is real. (To be totally fair, a majority of my /Film colleagues haven't seen the show yet either, so it's a blind spot for a lot of us here.)
I'm not well-versed in anime, but that trailer looks crazy enough that I may have to seek out the original series before this new show hits the small screen. Just from that alone, it's easy to see the potential in a live-action take on the material: the cool characters, stylized dialogue, incredible production design, and impressive action seems like an alchemy too potent to pass up.
If you've seen the original anime, do you think this will work better as a live-action show than as a movie? And feel free to toss your fantasy casting suggestions into the comments below.