'SpongeBob SquarePants' Musical Coming To Broadway This Year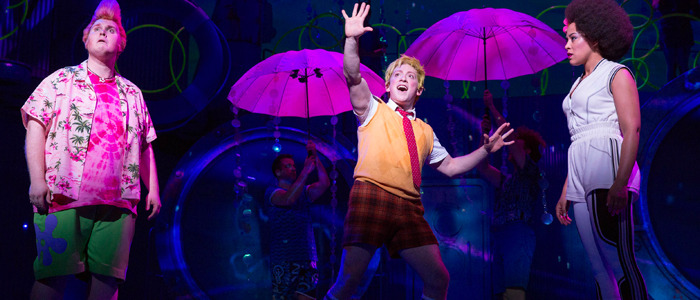 Despite any nostalgia '90s kids may have for characters from Doug, Rugrats, or Hey Arnold!, it's hard to argue that there's any bigger or more popular character in the history of Nickelodeon than SpongeBob SquarePants. Don't believe me? As of 2015, the property had generated a staggering $12 billion for Nickelodeon in merchandising alone. Whoa.
Now it looks like the character is going to be responsible for putting even more cash in the company's pockets, because a SpongeBob SquarePants musical is heading to Broadway later this year – and the list of talent the producers wrangled up to write songs for this is one of the most random collections of musicians this side of "We Are The World."
Variety brings the news about the forthcoming show, but before we go any further, take a look at the list of artists who wrote songs or otherwise contributed to the score: Steven Tyler and Joe Perry (of Aerosmith), John Legend, Sara Bareilles, Panic! at the Disco, T.I., The Flaming Lips, The Plain White T's, Lady Antebellum, Cyndi Lauper, and They Might Be Giants. I've probably only seen about five Broadway shows in my life, but one of the things that's been a constant in all of them is that the music all feels consistent within the world of the story. Unless this is a road trip saga in which SpongeBob encounters a ton of wildly disparate characters from all walks of life, I can't fathom how artists with styles this diverse are going to be able to gel together in the same musical. But again, I'm far from an expert on Broadway shows, so I'm sure the producers know exactly what they're doing.
The plot follows "a volcano that threatens the undersea town of Bikini Bottom and everyone who lives in it," and the cast of the New York production will be the same ones from last year's Chicago performances, where the show made its debut under the title of The SpongeBob Musical. It's been retitled to SpongeBob SquarePants for its Broadway run, which begins on December 4 at the Palace Theater. (Previews begin on November 6.) Kyle Jarrow wrote the show's book, and Tina Landau is directing.
Take a look at a couple behind-the-scenes videos about the making of the show from last year, complete with interviews with the director, cast, and crew as they talk about the plot, the music, and much more: