'War For The Planet Of The Apes' Prequel Novel: Koba's Revolt Lives On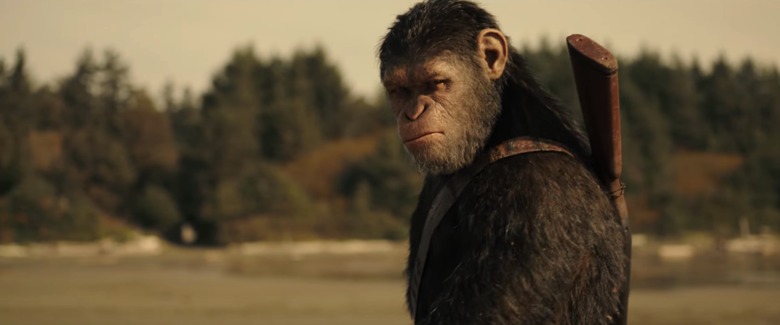 There's a two-year gap between the events of Dawn of the Planet of the Apes and War for the Planet of the Apes. At the beginning of Matt Reeves' sequel, Caesar (Andy Serkis) and his followers have grown stronger from the virus. War also starts with a full-on war raging between apes and the humans, which a prequel novel, in addition to some comic books, will fill in a few blanks for. Below, learn more about the War for the Planet of the Apes prequel hitting shelves tomorrow.
Titan Books is publishing Greg Keyes' novel. He wrote the prequel to Dawn of the Planet of the Apes, contributed a story to Planet of the Apes: Tales from the Forbidden Zone, and is responsible for the Interstellar novelization and plenty of original works. For his prequel to Dawn, it was set closer to the events of Rise, and he wrote it having only read the script – which is usually how these novels are written.
War for the Planet of the Apes is a bit of a road movie with a heavy western influence, with Caesar feeling more conflicted as a leader and seeking revenge. In the lead up to his quest, Keyes' prequel will show the tensions rising between the ape leader and Colonel McCullough (Woody Harrelson) and the aftermath of Koba's death.
Here's the synopsis from Titan Books:
Driven from their woodland home, Caesar and his apes are still recovering from the takeover by renegade ape Koba. Caesar is desperate to avoid war with the humans, but this is a faint hope, as his enemies are about to receive military reinforcements headed by the ruthless Colonel McCullough. While trying to hold off McCullough's soldiers, Caesar sends his son Blue Eyes on a mission to the south to try to find a safe haven for the apes, despite rumors of terrible things happening there. Meanwhile supporters of Koba's revolt are spreading dissent among Caesar's ranks...
Reeves and all involved did consider bringing Koba back for War for the Planet of the Apes, but then conceded the odds of him surviving the fall were too slim. The ape is dead and buried, but the fight he started with Caesar remains a part of the upcoming sequel. Next month, the comic prequel to Reeves' film from David F. Walker ("Power Man") and illustrator Jonas Scharf ("Warlords of Appalachia") will focus more on the war between apes and humans.
War for the Planet of the Apes opens in theaters July 14.