'Big Trouble In Little China: The Game' Trailer: Jack Burton & Friends Head To The Tabletop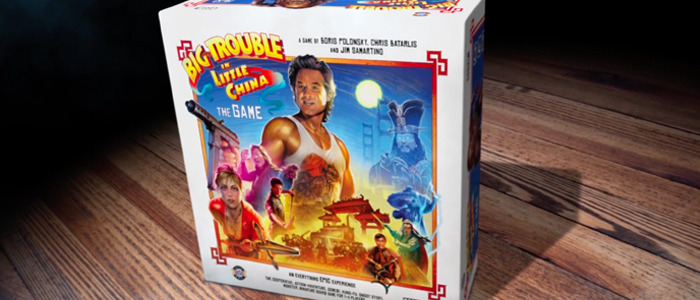 I thought I was ready when I sat down to watch John Carpenter's 1986 film Big Trouble in Little China for the first time, but nothing could truly prepare me for how bizarre that movie is. Now the off-kilter cult classic is getting the board game treatment, and a brand new trailer dives into the gameplay and shows how ol' Jack Burton and his pals will face off against the mystical Lo Pan in game form. Hop into your own Porkchop Express, grab your CB radio, and watch the first Big Trouble in Little China board game trailer below.
Big Trouble in Little China: The Game trailer
Thanks to io9 for pointing this out to us. Somehow, the laughably bad Kurt Russell impression in the trailer actually feels like it fits perfectly with the spirit of this game. And speaking of tone, you should check out the most recent edition of our board game column Cardboard Cinema, in which Jacob Hall talks about how tabletop gaming has finally evolved to the point that it's reasonable for fans to expect that games based on movies should feel like extensions of the film instead of just a cheap cash-in that uses the same title. Based on what we see here, it looks like Big Trouble in Little China: The Game definitely meets that standard.
Playing as characters like Jack Burton, Gracie Law, Egg Shen, Wang Chi, Margo Litzenberger, or Eddie Li, players must travel through Chinatown while defeating Lo Pan's minions and completing story quests, all while powering up and preparing for a final showdown with Lo Pan himself. The decisions you make along the way impact the final outcome, and splintering across different paths means the game has high replayability value. The game's official website has everything you could want to know about the rules and how things work with multiple players, so I'd encourage you to head over there and dive in if you're already convinced that this is something you need to own.
You can pre-order the "Deluxe Limited Edition" right now for a cool $99.95. Here's what the site says about how that differs from the regular version:
The Deluxe Limited Edition of Big Trouble in Little China: the Game is being created with the biggest fans of the film in mind. We wanted to say thank you to those who believe in our project as much as we do and to give them something special for pre-ordering the game.
The core game will allow for 1-4 players, but the Deluxe edition will increase the number of possible players to six!. The Deluxe edition will also include the Legacy of Lo Pan quests, with new rewards and hell cards, which give players an entirely new campaign-style experience and a new Lo Pan Boss board for an even more challenging and replayable showdown. All these extras will come in a unique metallic gold Limited Edition box design and more!
Take a look at some photos below, and head here for more info.