Universal Studios' Kung Fu Panda: The Emperor's Quest Attraction Will Open In June [Update]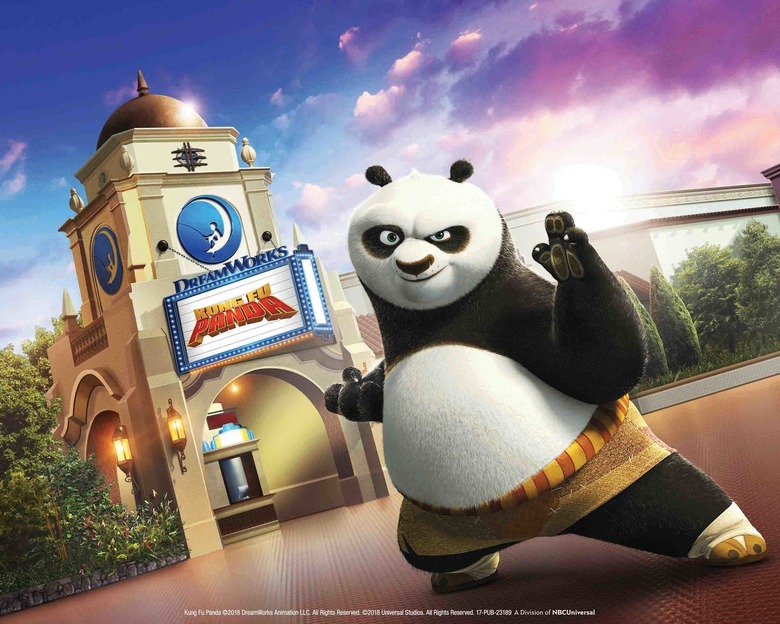 Update: Universal Studios Hollywood has announced that their new Kung Fu Panda attraction, Kung Fu Panda: The Emperor's Quest, will open in June. More details have been added below. Our original article follows.
Universal Studios Hollywood made a couple of big announcements this morning, including:
Christmas will be coming to The Wizarding World of Harry Potter with a "dazzling light projection show, festive holiday décor and holiday-themed food and beverages."
Shrek 4D is being replaced with DreamWorks Theatre, which will kickstart with a new Kung Fu Panda attraction.
Find all of the details below.
Kung Fu Panda: The Emperor's Quest
Update: Universal has announced that Kung Fu Panda: The Emperor's Quest will open its doors on June 15, 2018. Here's the description of the 4D show's storyline:
Created and produced by DreamWorks Animation and Universal Creative, "Kung Fu Panda:  The Emperor's Quest" recounts a plot filled story whereby on the morning of The Emperor's Great Feast of Heroes, dragon warrior Po embarks on a wild and perilous mission to deliver the rare and precious Liquid of Limitless Power to the Palace, while enlisting guests to join him on the exciting adventure filled with raging rapids, river pirates, awesome magic and Kung Fu.
Like Shrek 4D before it, the show will feature an elaborate pre-show before guests enter the theater:
Featuring an original score by composer Germaine Franco, the storyline begins as guests enter the pre-show area of the theatre where they meet an array of DreamWorks characters who kick-off the attraction's narrative. From there, guests will enter the main theatre, complete with new ultra-plush, fully articulated seats that pivot and swivel in tandem with the 180-degree action.
Naturally, the press release also touts the new technology powering the show:
With cutting-edge technology at the forefront of the multi-sensory attraction, "Kung Fu Panda:  The Emperor's Quest" will introduce the first-ever integration of interior projection mapping designed to engulf guests in 180 degrees of immersive adventure. Developed by the innovative team at Universal Creative, this never-before-adapted technique will depict a series of immersive and visually dynamic scenic designs that will transform within the interior space and enhance the story. With detailing that is so precise, it will be near impossible to realize the projected imagery is a mere illusion.
The rest of our original article follows.
***
We've known for a couple of weeks that Shrek 4D would be closing at Universal Studios Hollywood, but we didn't know what would replace it. Now, Universal has revealed their plans, which include a complete renovation of the building, transforming it into the DreamWorks Theatre. Here are the details:
Opening in 2018, this newly designed venue will play host to a variety of action-packed DreamWorks Animation themed attractions beginning with the multi-sensory adventure inspired by the global blockbuster franchise Kung Fu Panda, and created in partnership with Universal Creative and DreamWorks' Artists. This new technologically advanced attraction will take guests on a legendary journey that fuses captivating storytelling with state-of-the art projection mapping and LED lighting effects for a highly engaging and immersive, unstoppable-awesome experience.
Universal will also be adding some new DreamWorks characters to meet and entertain guests, including Kung Fu Panda's Po and Tigress; Madagascar's Alex the Lion, the Penguins (Skipper, Rico, Kowalski and Private), and King Julian; Trolls' Poppy and Branch; Shrek's Puss 'n Boots will join existing characters Shrek and Fiona.
It makes complete sense that Universal is not replacing Shrek 4D with another attraction, but with a theater. 3D movie experiences like Shrek 4D seem to quickly become outdated, and having a theater means that Universal could probably update the location with new experiences every few years and not have to completely retheme the facade. Also, with Universal acquiring DreamWorks Animation, it just makes branding sense.
Good riddance to Shrek 4D as it was horrible. I hope this new Kung-Fu Panda experience is much better. I like the classic look of this new building, borrowing details from DreamWorks Animation's headquarters and also some old school Hollywood movie theaters.
Wizarding World Christmas
And now for The Wizarding World of Harry Potter! The Hollywood version of Hogsmeade will be getting a full Christmas experience as we have seen overseas. Christmas in The Wizarding World of Harry Potter will transform Hogwarts castle with "a breathtaking light projection show that captures the spirit of the yuletide season." You might recall that Universal is introducing a light show on the castle this summer, but the Christmas version will be specially Holiday themed.
Hogsmeade village will be decorated with "festive décor uniquely themed to each of the individual storefronts, along with holiday-themed food and beverages including hot Butterbeer." Here are more details:
A special time in the Harry Potter series, the all-new "Christmas in The Wizarding World of Harry Potter" tradition invites guests to celebrate this part of J.K. Rowling's compelling story for themselves. As night falls on Hogsmeade village, the familiar sounds of Harry Potter music will resonate throughout "The Wizarding World of Harry PotterTM". Multiple times an evening, colorful projection mapping will illuminate Hogwarts™ School of Witchcraft and Wizardry with impressive dimensional animations that melodically dance across Hogwarts castle in tandem to a musical arrangement from of the Harry Potter movies.
As someone who always loved Disneyland's holiday theming, this is exciting because Grinchmas (Universal's previous holiday event) wasn't something that really interested me. I wonder how long until groups attack Universal for not calling the seasonal event a more generic "Holiday-time" rather than "Christmas." However, this is a thematically appropriate choice, as the characters in Rowling's Harry Potter novels celebrate Christmas. In addition to being an excuse to get people to visit the park again, it only deepens the land's already impressive adherence to the source material.
More details about "Christmas in The Wizarding World of Harry Potter" will be revealed in the coming months, but check out the above photos and below video for more information.