'Broad City' Season 4 Trailer: Abbi Jacobson And Ilana Glazer Head For Warmer Climates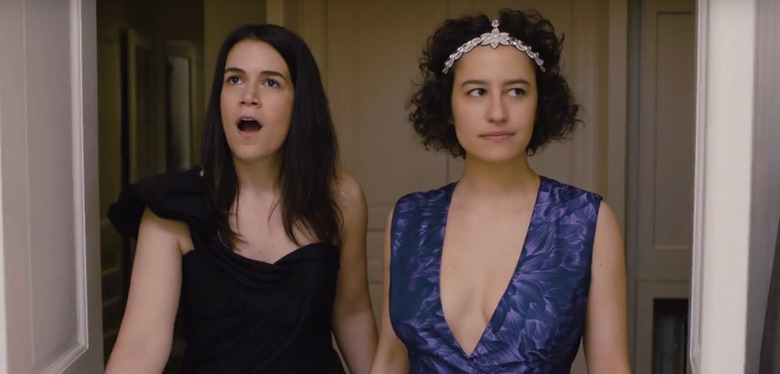 One of the best comedy series on TV right now is undoubtedly Broad City. What first felt like the female answer to Workaholics has become the shining beacon in Comedy Central's current line-up of shows as Abbi Jacobson and Ilana Glazer have taken New York City by storm across three seasons. Now the fourth season is coming later this year, and the first trailer gives us a taste of what's in store, including plenty of risque shenanigans, some fantastic new guest stars, and at least one episode where they leave New York City for a warmer climate.
Watch the Broad City season 4 trailer below.
Even though this trailer is just a collection of wackiness, we still get a good sense of the kind of insanity that will be coming from this season. Plus, Abbi and Ilana are likely in for a rude awakening since they were so gung ho about Hillary Clinton winning the presidency, only to now have to deal with Donald Trump in the White House. In fact, Jacobson and Glazer wrote the fourth season thinking that Clinton was going to win, so they had to make some changes before shooting this past February.
One of those changes includes setting this season during winter in New York City, unlike the rest of the previous seasons. Glazer previously told The Daily Beast that this season would be "dark as fuck" and the winter setting will certainly help that, which explains why the girls end up in a warmer climate, going to Florida at some point during the season. Plus, the girls get animated, presumably for an episode involving some hallucinogenic drugs.
Beyond that, it's business as usual as Ilana and Abbi taunt some abortion protesters, experiment sexually, get botox, and defy Donald Trump with masturbating. There also looks to be some kind of flashback episode, if I'm not mistaken. That seems to be what that scene involving Abbi meeting her annoying roommate Bevers (John Gemberling) is all about, and I think that might be what's happening in the scenes where Ilana is wearing an orange wig and appears to meet Lincoln (Hannibal Buress) for the first time.
Guest stars this season include Ru Paul, Steve Buscemi, Wanda Sykes and Jane Curtin. Shania Twain also appears as a new member at Abbi's gym. Hopefully there are plenty more surprises in store when the fourth season hits Comedy Central starting on August 23.