'The Dark Tower' TV Spots: Idris Elba & Matthew McConaughey Exchange Deadly Threats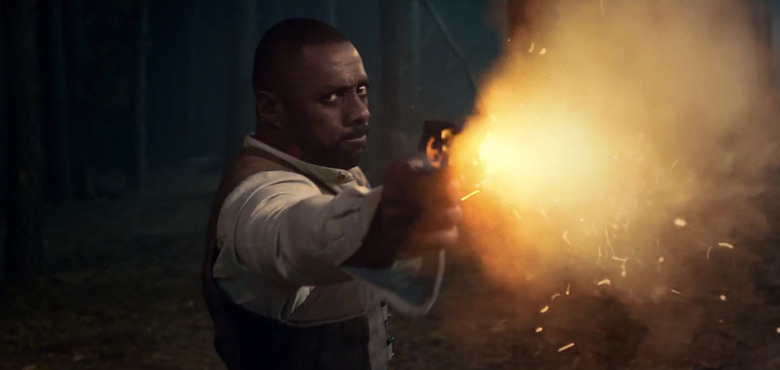 Sony Pictures is bringing the long-awaited adaptation of Stephen King's book series The Dark Tower to theater at the beginning of August. The first trailer for the sci-fi western was more confusing than anything, especially for anyone who isn't familiar with the book series, though our trailer breakdown may have helped a bit.
Now some TV spots for The Dark Tower have started hitting the small screen, presumably taking advantage of the audience watching the NBA Finals, and while they don't really do much to explain the story more, they do show off more of Idris Elba slinging guns like a badass while Matthew McConaughey threatens to turn the world into hell.
Watch The Dark Tower TV spots below.
This TV spot gives its attention to the Man in Black, who taunts the gunslinger played be Idris Elba by reminding him that everyone he loved has already died by the villain's hand. I'm still not sure how I feel about Matthew McConaughey in this role. He does throw some gravitas behind his threats, but there's nothing that really makes him stand out as a promising villain yet.
For everyone who loved the shots of Idris Elba loading his gun quickly like a badass from the first trailer, there's those shots and even more of him unloading some lead in the general direction of Matthew McConaughey. Plus we get to hear the shortened version of his oath again.
The final TV spot acts as the one that attempts to sum up the story as simply as possible, though I'm not sure a TV spot is going to be what convinces people to see this movie when they don't have much time to explain the story. Hopefully, the next trailer will dive a little more in depth into the narrative so audiences have a better idea of what's going on.
There are other worlds than these. Stephen King's The Dark Tower, the ambitious and expansive story from one of the world's most celebrated authors, makes its launch to the big screen. The last Gunslinger, Roland Deschain (Idris Elba), has been locked in an eternal battle with Walter O'Dim, also known as the Man in Black (Matthew McConaughey), determined to prevent him from toppling the Dark Tower, which holds the universe together. With the fate of the worlds at stake, good and evil will collide in the ultimate battle as only Roland can defend the Tower from the Man in Black.
The Dark Tower hits theaters on August 4 this year.