Rumor: 'Silver And Black' Could Launch An All-Female 'Spider-Man' Universe Team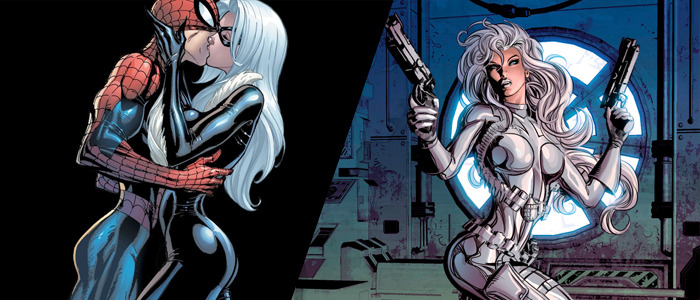 Sony has been eager to launch its own superhero cinematic universe centered around Spider-Man, to match that of the Marvel Cinematic Universe, the DC Extended Universe, and 20th Century Fox's X-Men universe. But their attempts at world-building fell apart in Amazing Spider-Man 2, and planned spin-offs like Sinister Six completely fell part.
Things got dire enough that Sony lent Spider-Man back to the MCU, who happily introduced Tom Holland's gawky Peter Parker in Captain America: Civil War. Now with Spider-Man: Homecoming generating good buzz, Sony is reportedly taking a second swing at that elusive cinematic universe, this time with an all-female team launched from its upcoming Silver & Black movie.
Splash Report claims that Silver & Black will be the launchpad for an all-female Spider-Man universe team, a sort of female Avengers, if you will. It's a definite reversal from Sony's earlier approach to start of their cinematic universe with a team of villains, spurred on by ill-informed buzz around Suicide Squad. Now, with the success of Wonder Woman at the box office and with critics, Sony is apparently looking to capitalize on the newfound interest in female superheroes (about time).
Splash Report writes (and yes, take all of this with as much salt as you can muster):
"With Wonder Woman opening this week, it's a pretty good bet Sony is taking universe building tips from Warner/DC. Why?
Silver and Black is the setup for an all female Spidey-verse team movie. It ends with Silver Sable (a la Nick Fury) rounding up a team of The Black Cat, Jessica Drew (Spider-Woman), Charlotte Witter (Stunner), Sarah Ehret (Jackpot) and Cassie St. Commons (Dusk)."
There's no such pre-existing team in the Marvel comics on which these characters are based, but Sony's ownership of these characters — thanks to a bankrupt Marvel Comics selling the cinematic rights to Spider-Man to Sony in 1999 — they can really do whatever they want. And the Avengers set-up is a surefire recipe to success for a cinematic universe, unlike DC and Fox's more unwieldy approaches.
Of course, Sony isn't abandoning their villain-first approach completely, with Tom Hardy signing on to play Eddie Brock in a Venom solo movie. But it would be quite revolutionary to build a cinematic universe on a film led by a female duo, Silver Sable and Black Cat, helmed by female director, Gina Prince-Bythewood.
At this point, however, I wouldn't give too much credence to Sony for doing something so laudable as build their cinematic universe around a female superhero team. Because right now, it looks like they're just trying to put their hands in as many pots as possible to achieve that cinematic universe, without putting much thought into creating a stable foundation. It's a money-first way of thinking, and while Hollywood is a business, it's probably not the best way to launch a universe-spanning movie franchise.
For now, it is just a rumor, and could change depending on public reaction to other female-led films, like DC's Gotham City Sirens  and Batgirl, and Marvel's Captain Marvel.
Silver & Black is currently in development and does not have a release date.