VOTD: Tom Holland Stops By Children's Hospital Los Angeles As Spider-Man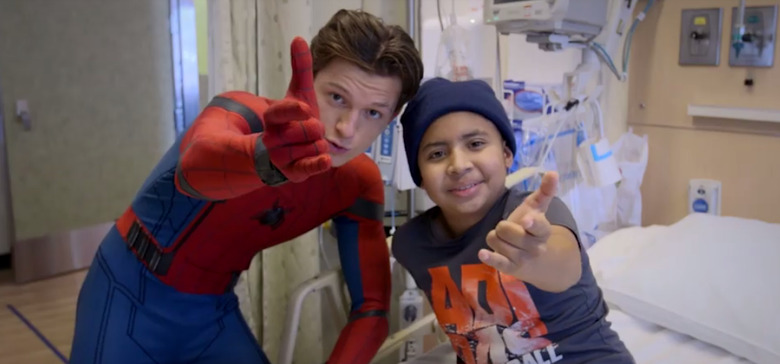 The actors and actresses who play superheroes on the big screen might as well be superheroes in real life as far as their young fans are concerned. When stars like Chris Evans or Gal Gadot step into their roles as Captain America and Wonder Woman, they're bringing comic book characters to life in a way that fans have only ever seen on a page or in their imagination. That's why it's so cool when these stars take time out of their schedule to get suited up as the superhero alter ego and meet some kids.
Spider-Man: Homecoming star Tom Holland is the latest actor to make a stop at Children's Hospital Los Angeles to cheer up some sick kids who could really use a superhero at their bedside. The young British actor went around the hospital in his full Spider-Man suit to meet and greet kids, takes pictures and sign autographs, and the hospital has shared a video of the actor's visit to melt your heart.
Watch Tom Holland as Spider-Man visit Children's Hospital Los Angeles after the jump.
One girl gets a little embarrassed when she sees how cute Tom Holland is after taking off Spidey's mask, which is adorable. Other kids want to know about all the different features of his suit, and Tom Holland explains it to them as if the suit were his own. In this instance, Tom Holland isn't playing a character; he really is Spider-Man.
If you're looking for more heartwarming stuff like this, check out some images of Chris Pratt and Chris Evans visiting some young fans dressed as Star-Lord and Captain America respectively over here. And don't forget that John Boyega did the same thing dressed as Finn from Star Wars: The Force Awakens too.