'The Mummy' Clips: Tom Cruise Has Trouble With Guns, Birds, Planes & Sofia Boutella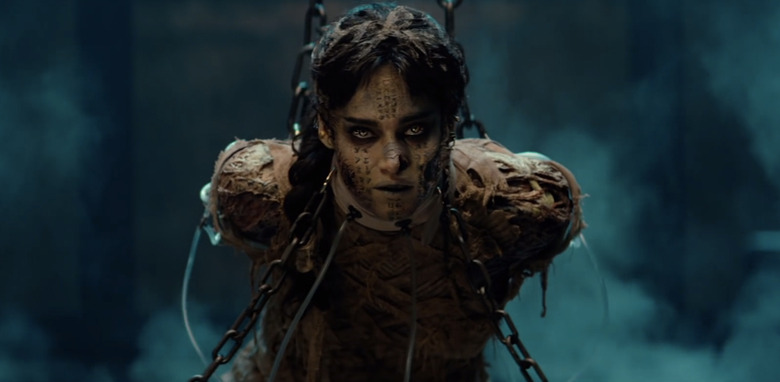 The blockbuster summer season just keeps marching forward. Now that Wonder Woman has hit theaters and exceeded even the higher opening weekend box office predictions, it's time to look forward to what's coming next weekend.
The big release for the weekend of June 9 will be The Mummy, the horror action adventure combo that is meant to kick off Universal's ambitious plan to create the Dark Universe that they made such a big deal about officially announcing recently. Tom Cruise stars in the remake of the classic monster movie that still looks like more action than horror, and leading up the film's release in just a few days, Universal has released a batch of clips to entice audiences. The only problem is they don't instill much confidence in the flick.
Watch The Mummy clips after the jump.
This action sequence appears to be from the beginning of the movie. It gives us an introduction to Tom Cruise's character and his sidekick played by Jurassic World star Jake Johnson. The banter that the two have back and forth makes me think Jake Johnson would be a great addition to the Mission: Impossible franchise. Anyway, we're not sure how these two got into this spot of trouble, but it's about to get worse before it gets better. But as we've seen in the trailer, it's this action sequence that leads to the discovery of The Mummy's tomb.
Here's an extended version of the sequence we've seen in the trailers over and over again as the cargo plane that Tom Cruise and Annabelle Wallis are flying in after recovering The Mummy herself. It's still impressive to me that some actors can still pull of their performance while actually experience zero gravity, especially since they're not just throwing up with every take. I'm still wondering just what the explanation is for Tom Cruise surviving the crash, but surely that will come in the movie.
Here's where Tom Cruise meets Dr. Jekyll, played by Russell Crowe. In this clip he learns about the secret organization Prodigium that has been studying evil powers, such as those that have brought Sofia Boutella back to life as The Mummy. Surely there is much more that this organization knows about, especially since there are plenty more movies left to come in the Dark Universe franchise.
The above scene may also be part of the preceding scene as that's Russell Crowe's voice that we hear during this flashback that shows us how Sofia Boutella came to be the monster she is. It's so strange how hard the movie tries to obscure her character's nudity with darkness. Why even bother having her be naked at all? Just to entice hormonal teenagers to see it in theaters?
Finally, after The Mummy has made her escape from being held in Prodigium headquarters, she seems to be in pursuit of Tom Cruise for some reason. After the truck they're driving rolls down into the woods, Tom Cruise thinks he can just pick up a big stick to fight The Mummy, but instead she throws him across the forest, It's this clip that's the most troubling, because the comedy certainly isn't working here, bordering on being completely silly, and not in the good way that Mission: Impossible movies are sometimes surprisingly funny.
These clips don't do much to inspire faith that this movie will be a good start to the Dark Universe, but even so, Universal still seem to be putting a lot of resources into making it work. Will audiences be interested though? We'll find out next weekend.
Tom Cruise headlines a spectacular, all-new cinematic version of the legend that has fascinated cultures all over the world since the dawn of civilization: The Mummy. Thought safely entombed in a tomb deep beneath the unforgiving desert, an ancient princess (Sofia Boutella of Kingsman: The Secret Service and Star Trek Beyond) whose destiny was unjustly taken from her is awakened in our current day, bringing with her malevolence grown over millennia and terrors that defy human comprehension.  From the sweeping sands of the Middle East through hidden labyrinths under modern-day London, The Mummy brings a surprising intensity and balance of wonder and thrills in an imaginative new take that ushers in a new world of gods and monsters.
The Mummy opens in theaters June 9.