'Seven Sisters' Trailer: Noomi Rapace Plays One Big Family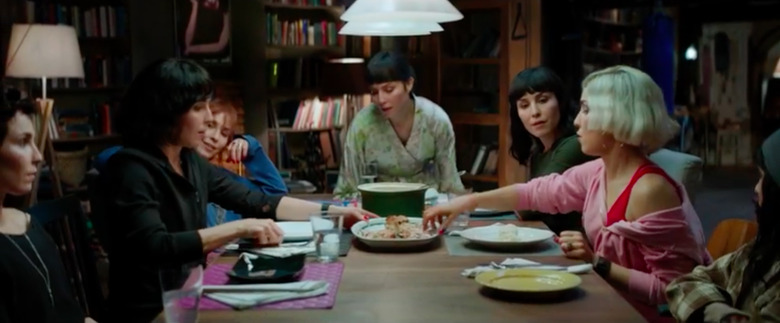 Noomi Rapace plays Monday, Tuesday, Wednesday, Thursday, Friday, Saturday, and Sunday in Seven Sisters. In the future, siblings are outlawed, but Willem Dafoe decides to stick it to the system and keep his granddaughters – seven twins – a secret. They don't stay a secret forever in the Netflix movie, though.
Below, watch the Seven Sisters trailer.
The sisters all explore the outside world under the name of Karen Settman. What Settman does on a day-to-day basis is a little unclear in the international trailer, but maybe she has some connection to the head of the Birth Control Board, Nicolette Cayman (Glenn Close). After Monday spends some time out in the world one day, she doesn't return home. What happened to her is a mystery, but it leads to the other six siblings having to fight for their lives in an overpopulated world.
Seven Sisters is the new film from Tommy Wrikola, the director of Dead Snow and a movie not without its charm, Hansel & Gretel: Witch Hunters. Kerry Williamson and Max Botkin penned the original sci-fi thriller, which co-stars Robert Wagner.
Seven Sisters opens in some foreign territories this summer, but Netflix hasn't announced a release date yet. The movie was originally called What Happened to Monday?, which is a pretty cool title that maybe should've stayed. Seven Sisters is very self-explanatory, but the old title is the more memorable of the two. Definitely less generic.
Always a draw with these sort of movies is watching a talented actor give more than a single performance. Rapace is probably more than up for the challenge of playing seven distinct characters. Since her breakout performance in The Girl with the Dragon Tattoo, the movies she's starred in have varied in quality, but she's shined in more performance-driven movies, like The Drop. After watching the Seven Sisters trailer, I'm most interested in the work she does in the film.
2073. The Earth is overpopulated. The government decided to introduce a one-child policy, applied by the Birth Control Board, under the aegis of Nicolette Cayman (Glenn Close). Confronted with the birth of seven twins, Terrence Settman (Willem Dafoe) decides to keep the existence of his 7 granddaughters secret. Confined to their apartment, each day they will have to share a unique identity outside, simulating the existence of one person: Karen Settman (Noomi Rapace).
Though the secret remains intact for years, everything collapses on the day that Monday mysteriously disappears ...
Correction: The original version of this article did not credit screenwriter Max Botkin. We apologize for the error.