'Stranger Things' Season 2 Cliffhanger Probably Sets Up A Third Season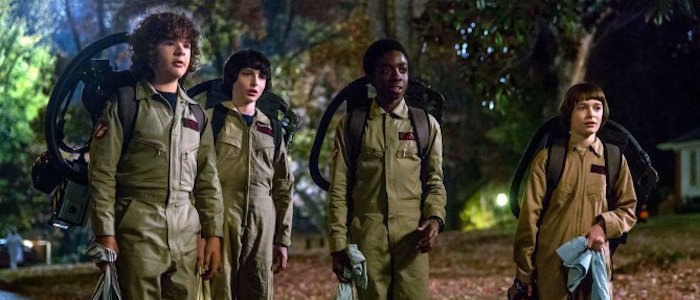 The first season of Stranger Things captivated, baffled, and frustrated us — and the second season promises to do all that and more.
That includes upping the stakes on a cliff-hanging finale, which star Gaten Matarazzo (who plays the scene-stealing Dustin) promises the second season will end on. The first season, which had no guarantee for a sequel, ended on Will (Noah Schnapp) ominously vomiting up a creepy slug and Chief Hopper (David Harbour) leaving a box of Eleven's (Millie Bobby Brown) favorite Eggo waffles out in the forest. Now with Stranger Things becoming one of Netflix's flagship shows, a third season is definitely in the cards, and with that, there will most likely be an even more infuriating season finale cliffhanger. Hit the jump to learn about the Stranger Things season 2 cliffhanger.
In a Huffington Post interview, appropriately at a special Holiday Inn "Summer of Smiles" event over chocolate milk, Matarazzo teased that Stranger Things fans can look forward to an even more action-packed second season.
"[There's] a good amount of explanation that they've been looking for, but also there are some new stories coming in that you're gonna want to hear about if there is a Season 3. Also, we got another cliffhanger in there for ya, so that's gonna be exciting."
Matarazzo was tight-lipped with other details for the second season of Netflix's runaway genre hit and love letter to '80s sci-fi, like what's up with Eleven.
"Who doesn't want to be like Eleven?" he responded to the question. "Eleven's awesome."
We know that Eleven will return — though we don't know how — and that Season 2 will be chock full of '80s pop culture nods, an even more frightening monster than the Demogorgon, and new mysteries and threats. A third season is already being worked on, using some leftover ideas that couldn't make it into the second season. So we know the upcoming season will be absolutely jam-packed.
The returning cast includes Winona Ryder as Joyce Byers, David Harbour as Jim Hopper, Finn Wolfhard as Mike Wheeler, Millie Bobby Brown as Eleven, Gaten Matarazzo as Dustin Henderson, Caleb McLaughlin as Lucas Sinclair, Charlie Heaton as Jonathan Byers, Cara Buono as Karen Wheeler, Matthew Modine as Martin Brenner, Noah Schnapp as Will Byers, and Joe Keery as Steve Harrington. Sean Astin will be joining the cast as Joyce's new boyfriend. The second season will also introduce Sadie Sink as Max and Dacre Montgomery as Billy.
The second season of Stranger Things will premiere on Netflix on October 31, 2017.