M. Night Shyamalan's 'Tales From The Crypt' Reboot Dead In The Ground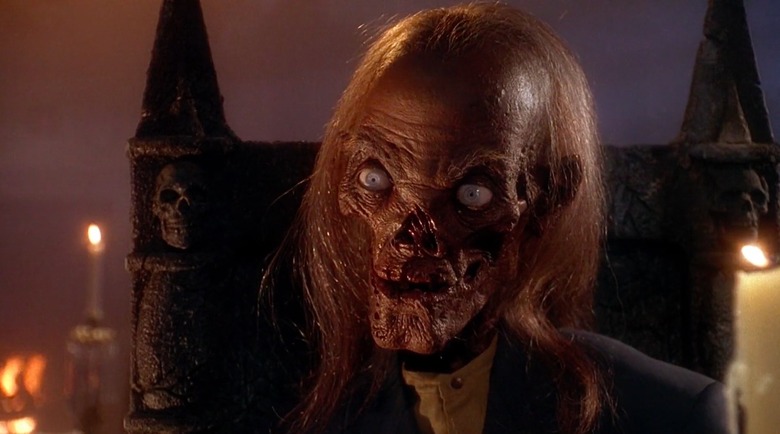 Tales From the Crypt's resurrection from the dead, helmed by horror connoisseur M. Night Shyamalan, has been cut short.
TNT's planned reboot of the horror-camp anthology series that ran from 1989 to 1996 had a 10-episode order with Shyamalan on board to curate short and long-form horror stories, and a new Cryptkeeper planned to host. But TNT president Kevin Reilly revealed that Tales From the Crypt, and the weekly two-hour horror block the network had planned around it, had to be axed because of rights issues.
Shyamalan was on a roll recently, kicking his career back into gear with surprise hits like The Visit and Split, and now launching his own veritable cinematic universe with Glass, the next sequel to his comic book genre-bending hit Unbreakable (after Split).
His streak looked like it would continue with his reboot of Tales From the Crypt, the campy, B-movie style horror anthology that ran on HBO in the early '90s. Shyamalan would curate and presumably direct some of the episodes for the show, which was planned to be the centerpiece of TNT's new weekly two-hour horror programming block, alongside newly commissioned horror shows Time of Death and Creatures. But that progress for the horror shows came to a screeching halt when TNT ran into trouble getting rights for Tales From the Crypt.
Reilly revealed in an interview with Birth.Movies.Death that for the time being, Tales From the Crypt will remain dead in the ground:
"That one got really caught up in a complete legal mess unfortunately with a very complicated underlying rights structure. We lost so much time, so I said, 'Look, I'm not waiting around four years for this thing'. Maybe that will come back around but in the meantime, Ridley Scott had come up, who has so much creative enthusiasm."
A ray of hope shines within that pile of bad news for Crypt fans — Ridley Scott will be coming onboard TNT develop a sci-fi block, which the network plans to debut in 2018. There's no news on which pilots or series will be picked up for the block, but Reilly said, "it could be a series order. When you got Ridley, there are projects he is potentially interested in getting directly involved."
And what of the horror block? Is Tales From the Crypt's absence going to deal a fatal blow on the other two shows that TNT commissioned?
Reilly told Birth.Movies.Death that he hasn't "ruled out" continuing the block without Tales From the Crypt: "We don't have a specific property today but we're open to it."
This is a bummer for Tales From the Crypt fans, but at least both Shyamalan and TNT seem to have enough projects that this doesn't leave either of them in a rough place. Perhaps to avoid rights issues, Shyamalan can take his reboot ideas to HBO, because it seems a shame to deprive the world of more of Shyamalan and Crypt's B-movie schlock.