'Guardians Of The Galaxy' Actress Elizabeth Debicki Added To 'Valerian,' A Month Before Release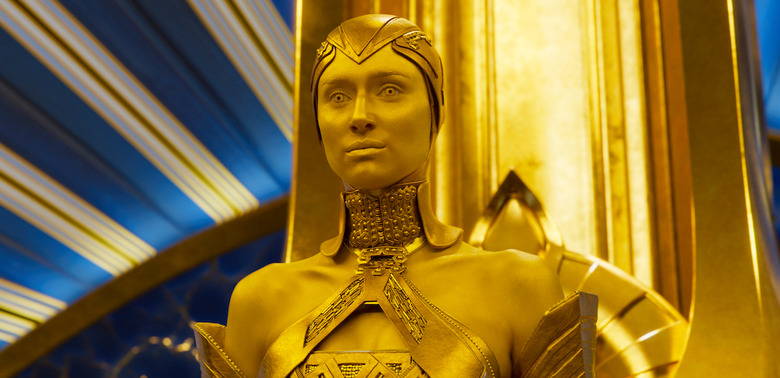 Valerian and the City of a Thousand Planets wrapped production back in June 2016, but with a month and a half to go before its release, it looks like it's still not quite done yet.Elizabeth Debicki, who was recently seen in another fantastical space romp Guardians of the Galaxy Vol. 2, was just cast in a voice-over role in Luc Besson's sci-fi epic. The movie is set to be released at the end of July.
Debicki joins Valerian in an undisclosed voice-over role, according to Variety. There's no information on whether this is a new or old role, or whether it will require additional scenes to be filmed.
While this addition is last-minute, because it's a voice-over role, it's unlikely to be very large. Her role could be as minimal as voicing a loudspeaker, adding a telepathic voice to a mute alien character, or even just working as a background voice — though it would be curious to cast a fairly well-known actress for something so minor.
With a month to go before Besson's ambitious adaptation of the influential French sci-fi comic Valerian and Laureline, is this cause for concern? Probably not. It's a little worrisome that Debicki's role was announced a month and a half before the movie hits theaters and a week after the final trailer hit the Internet. But since it is a voice-over role, it probably won't cause any massive changes or disruptions to the movie.
Valerian and the City of a Thousand Planets is based on a French graphic novel created in 1967 by Pierre Christin and Jean-Claude Mezieres, and follows two agents, Valerian and Laureline, who travel through time and space to protect the planets in the 28th century.
The film follows the general premise of the comics, which influenced everything from Star Wars to Besson's own The Fifth Element. See the film's synopsis below:
Valerian (Dane DeHaan) and Laureline (Cara Delevingne) are special operatives for the government of the human territories charged with maintaining order throughout the universe. Valerian has more in mind than a professional relationship with his partner, blatantly chasing after her with propositions of romance. But his extensive history with women, and her traditional values, drive Laureline to continuously rebuff him.
Under directive from their Commander (Clive Owen), Valerian and Laureline embark on a mission to the breathtaking intergalactic city of Alpha, an ever-expanding metropolis comprised of thousands of different species from all four corners of the universe. Alpha's seventeen million inhabitants have converged over time- uniting their talents, technology and resources for the betterment of all. Unfortunately, not everyone on Alpha shares in these same objectives; in fact, unseen forces are at work, placing our race in great danger.
Valerian and the City of a Thousand Planets hits theaters July 21.