Netflix Cancels The Wachowskis' 'Sense8' After Two Seasons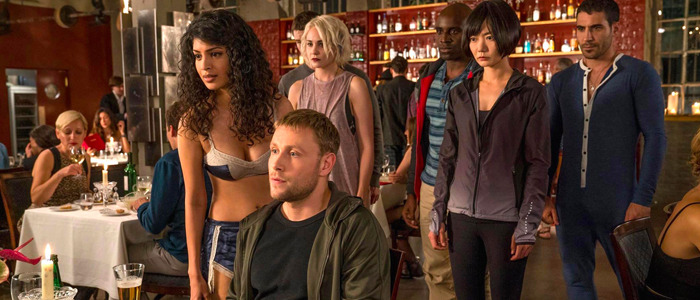 We have some sad news today for fans of Lana and Lilly Wachowski's ambitious, globe-spanning series Sense8: Netflix has officially canceled the show after only two seasons. Read the streaming service's official statement below, as well as some speculation about why the series got the ax.
The Cancelation
TV Line brings word about the cancelation, including a statement from Cindy Holland, Netflix's vice president of original content:
"After 23 episodes, 16 cities and 13 countries, the story of the Sense8 cluster is coming to an end. It is everything we and the fans dreamed it would be: bold, emotional, stunning, kick ass and outright unforgettable. Never has there been a more truly global show with an equally diverse and international cast and crew, which is only mirrored by the connected community of deeply passionate fans all around the world. We thank Lana, Lily, Joe and Grant for their vision, and the entire cast and crew for their craftsmanship and commitment."
Sense8, which followed a group of people around the world who experienced a psychic link to each other, earned mixed reviews but established a vocal online fanbase. And Holland is spot-on in one regard: this show was one of the most diversely cast pieces of television you'll ever see. It's a bummer that it was canceled, and the timing was especially terrible: today is the first day of pride month, and for a show that was as LGBTQ-friendly as this one, it's a shame this announcement had to come on this specific day because it imbues the cancelation with an unfortunate resonance that certainly wasn't intended.
Why It Might Have Been Canceled
Because Netflix executives won't release numbers about how many people watch the platform's original shows, it's been tough for television critics and people who cover the industry to get firm reasoning behind why Netflix cancels any of its television shows. The company has primarily put its focus on increasing its number of subscribers and retaining the ones they already have, today CEO Reed Hastings basically confirmed that when they cancel something, it's largely because not enough people are watching. According to Vulture, Hastings explained:
"You can tell when we cancel a show. It's a mix [of viewing and subscriber growth]. Mostly, it is how many people watch. But those are very connected."
Netflix has taken chances that the old guard would have never gambled on, but it looks like Netflix may not always be quite as different from traditional television companies as they'd have us believe. When it comes down to it, viewer numbers still matter. It looks like Sense8 – which, it must be said, couldn't have been a cheap show to produce – wasn't pulling in the eyeballs required to justify a third season. Here's hoping the Wachowskis find a follow-up project quickly, because I'm already excited to see what they do next.