'New Mutants' Casts Cannonball, Sunspot, And Danielle Moonstar [UPDATED]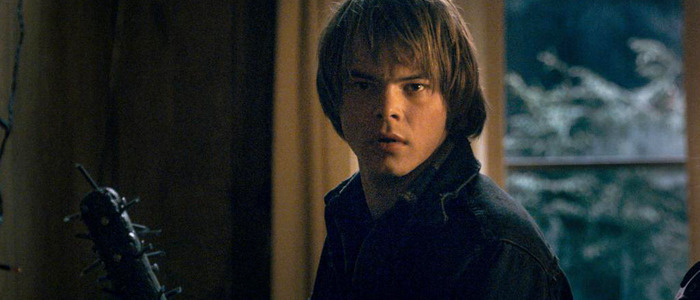 Update 2: Heat Vision reports that relative newcomer Blu Hunt has been cast as Danielle Moonstar, a Native American mutant who can create illusions based on the fears of those around her. This completes the casting of the core cast of New Mutants.Update: Deadline reports that 13 Reasons Why star Henry Zaga has also joined New Mutants as the mutant hero Sunspot, who can manipulate solar energy. Our original article follows.Charlie Heaton may not be the first name that comes to mind when you think about young actors from Netflix's Stranger Things, but he's on the verge of securing the highest-profile new movie role of any cast member since the first season aired.
Heaton is currently in talks to play Cannonball in The Fault in Our Stars director Josh Boone's long-developing X-Men spinoff film New Mutants for 20th Century Fox.
THR reports that Heaton, who plays the loner photographer Jonathan Byers on the breakout Netflix series, is in negotiations to join Game of Thrones star Maisie Williams and The Witch's Anya Taylor-Joy in the New Mutants cast. Rosario Dawson (The Defenders) is also in talks to star in the movie.
If all of the paperwork is signed, Heaton will play Sam Guthrie, aka Cannonball, a Southern teen who possesses the power to fly at supersonic speeds while encasing himself in a protective force field, which he can also wield to protect others. In the comics, Cannonball is a founding member of the New Mutants.
To me, Heaton seems like a solid fit for the X-Men universe. So far in the X-films, mutant characters have often expressed feeling like outsiders, and Heaton's depiction of Jonathan Byers' borderline-creepy behavior around his crush Nancy Wheeler has shown that the actor has the ability to easily conform to that mold. And since we know New Mutants will be a horror movie set within the X-Men universe, we also know Heaton can run from supernatural beings with the best of them.
Maisie Williams is already officially on board to play Rahne Sinclair, aka Wolfsbane, a young woman who can transform into a wolf. Meanwhile, Taylor-Joy is playing Illyana Rasputin, aka Magik, a young sorceress who has the ability to teleport through time and space. Boone is looking to do something "very, very different" with this movie, going as far as to say there are no costumes or supervillains that appear in this version of the story. Here's the unofficial synopsis that came out last week:
Held in a secret facility against their will, five new mutants have to battle the dangers of their powers, as well as the sins of their past. They aren't out to save the world — they're just trying to save themselves.
Boone is directing and co-wrote the screenplay with his writing partner Knate Lee. Filming begins in Boston this July, and New Mutants arrives in theaters on April 13, 2018.