'The Deuce' Trailer: David Simon And James Franco Welcome You To 1970s New York City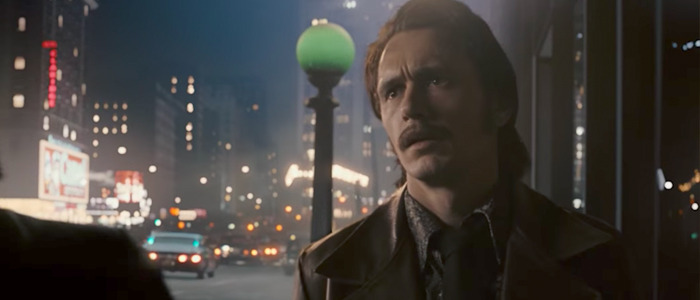 Move over, Ewan McGregor on Fargo: you're not the only major Hollywood actor who's playing twins on a prestige TV show this year. James Franco will be joining you this fall in The Deuce, a new HBO series from The Wire alums David Simon and George Pelecanos that's set on the grimy streets of 1970s New York City and tracks the legalization and rise of the porn industry in Times Square.
Watch the first The Deuce trailer below, and get a sense of the stylized world we're about to enter when the show premieres later this fall.
The Deuce trailer
That's a shorter teaser than I'd like, but the brassy music and neon-trailed visuals are enough to get me even more amped about this show than I already was. It's tough to tell with what we have to go on so far, but it's unclear if we've seen one or both of Franco's characters in this trailer. I wouldn't be surprised if the forlorn-looking Franco in the leather jacket at the end is different than the Franco who decks somebody with a pool cue. Either way, he's joined by people like Maggie Gyllenhaal, Lawrence Gilliard Jr. (who played D'Angelo Barksdale on The Wire), Emily Meade (The Leftovers, Money Monster), and Don Harvey (The Night Of, Luck), and this looks like a stylish trip back to when Times Square wasn't nearly as clean as it is today.
Franco plays a down-on-his-luck bartender named Vincent Martino, but also Frankie Martino, Vincent's more irresponsible brother. The ambitious actor, who seems to have a dozen projects in the works at any given time and who has probably directed and released two movies in the time it's taken me to write this article, also directed two episodes of this show, proving that playing two distinct roles on a high-profile HBO series simply wasn't enough of a challenge for him.
The Deuce makes its debut on HBO on September 10, 2017. Are you going to be watching?
Created by George Pelecanos and David Simon and starring James Franco and Maggie Gyllenhaal, THE DEUCE follows the story of the legalization and subsequent rise of the porn industry in New York's Times Square from the early 1970s through the mid-1980s, exploring the rough-and-tumble world at the pioneering moments of what would become the billion-dollar American sex industry. George Pelecanos, David Simon, James Franco and Nina K. Noble executive produce.