'Stranger Things' Star Auditioned To Play X-23 In 'Logan'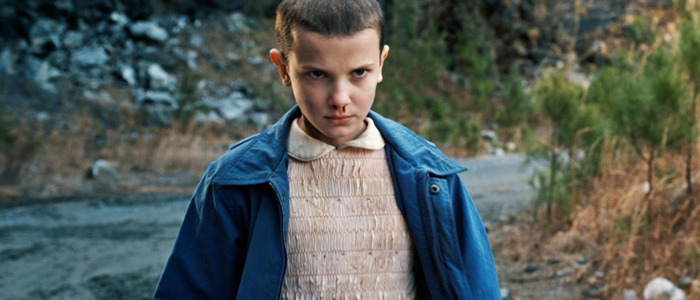 Hugh Jackman's legacy was cemented earlier this year in an excellent Wolverine send-off with Logan, but as one chapter in an actor's comic book movie career came to an end, a new one was just beginning. Survey everyone who saw Logan about their favorite aspects of the movie and the ferocious performance of 11-year-old Dafne Keen, who played Laura (aka X-23) in the film, would probably be pretty near the top. But it turns out we could have had a much different Laura: Millie Bobby Brown, who plays Eleven on Netflix's breakout series Stranger Things, auditioned for the role.
Hear the Millie Bobby Brown X-23 audition story in her own words below.
Here's Brown telling her audition story to Westworld star Evan Rachel Wood in an actor-on-actor interview for Variety:
Brown displayed a feral quality as Eleven in the first season of Stranger Things, and I'm sure she would have made a fine X-23. But I'm glad Logan filmmaker James Mangold and his casting directors ultimately chose Keen, because I was able to appreciate her performance and totally buy her as that character without having the baggage of another famous role just under the surface. The lab scenes in Logan may have reminded me of Eleven being trapped in a lab in Stranger Things, for example, and might have taken me out of the movie for a second.
Take a look at Keen's intense audition for Logan. Sir Patrick Stewart called it "one of the most extraordinary bits of audition tape I've ever seen in my life," so it seems like it'd be tough for anyone to top what she did in that room...including giving Hugh Jackman bruises because she punched him so hard:
Plus, Brown already had the opportunity to play breakout role in a beloved property, and she's since parlayed that into a movie career that will begin with 2019's Godzilla: King of the Monsters. Thanks to Keen's outstanding work in Logan, now she also has a similar opportunity to continue building her career. I'm excited to see what both young ladies do next.
Logan is available on Blu-ray and DVD right now.
In the near future, a weary Logan (Hugh Jackman) cares for an ailing Professor X (Patrick Stewart) in a hide out on the Mexican border. But Logan's attempts to hide from the world and his legacy are up-ended when a young mutant (Dafne Keen) arrives, being pursued by dark forces.