'The Mountain Between Us' Trailer: Kate Winslet And Idris Elba Are Stranded Strangers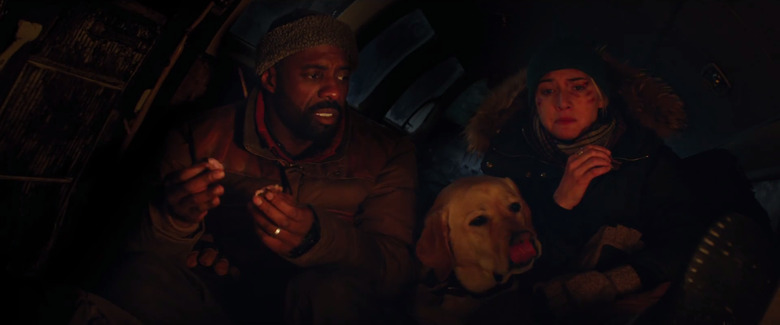 Despite a vague title that sounds somewhat like a romantic-comedy, Kate Winslet and Idris Elba aren't here to romance each other in The Mountain Between Us (though I would watch that rom-com).
The two of them play strangers whose plane crashes on a desolate Colorado mountaintop and must fight to survive against the freezing elements, wild animals, and their own attraction to each other — it was inevitable, they are the most beautiful people in the world — in the recently released official trailer.
The trailer is a pretty thorough set-up for the plot of the film: Elba's surgeon and Winslet's photojournalist are in a hurry to fly home when their flight gets delayed due to weather conditions.
Alex (Winslet) asks Ben (Elba) if he would want to join her on a small charter plane that would get them back to Baltimore in time for Ben's operation and Alex's wedding. However, their plane unexpectedly crashes atop the Colorado mountains, killing their pilot and leaving them stranded and injured. Discovering that their pilot didn't make a flight plan and no one knows where they are, they decide to make the trek down the mountain, binding up Alex's injured leg and taking the dog along with them too — it's unclear for now if that was the pilot's dog or just a random dog who found them. If it's the latter, that's adorable.
Here's the official synopsis below:
"Stranded after a tragic plane crash, two strangers must forge a connection in order to survive the extreme elements of a remote snow covered mountain. When they realise help is not coming, they embark on a terrifying journey across hundreds of miles of wilderness, pushing one another to endure and igniting an unexpected attraction."
The Mountain Between Us is directed by Oscar-nominated Dutch-Israeli filmmaker Hany Abu-Assad, known for his films Rana's Wedding, Paradise Now, Do Not Forget Me Istanbul, The Courier, Omar, and The Idol. The screenplay is written by Chris Weitz and J. Mills Goodloe, and is based on the novel of the same name by Charles Martin.
I'm excited to see the film just by virtue of it starring Elba and Winslet — though it's funny that only Elba gets to keep his British accent, for maximum attractiveness. /Film's own Peter Sciretta saw some footage during Fox's presentation at this year's CinemaCon, and called it "promising." USA Today released some stills from cold Canadian set that look quite gorgeous as well. The trailer is quite compelling, looking like a cross between The Grey and a great romance that happens to star Kate Winslet and Idris Elba. It's a sin that they haven't been in a movie together before, honestly.
The Mountain Between Us is set to hit theaters October 20, 2017.