'The Guest' Director Adam Wingard Tapped To Helm 'Godzilla Vs. Kong'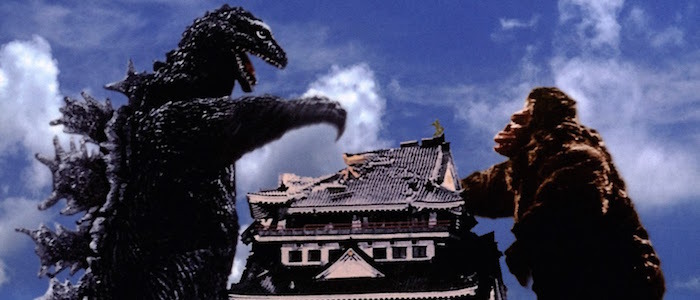 Godzilla vs. Kong finally has a director: Adam Wingard.
The director of buzzy horror thrillers like The Guest and You're Next, and who last helmed Blair Witch and the upcoming Death Note for Netflix, will be taking a monstrously large leap to what's sure to be one of the biggest blockbusters of its release year. Because come on: it's Godzilla vs. King Kong.
Legendary Pictures and Warner Bros. are building a massive monster universe — aptly called the MonsterVerse — based around classic creatures like Godzilla and King Kong.
Godzilla vs. Kong will see the two famous monsters meet for the first time on the silver screen since the Japanese film King Kong vs. Godzilla was released in 1962. Godzilla vs. Kong is the culmination of several other movies: Godzilla, released in 2014, Kong: Skull Island, which hit theaters in March this year and grossed over $565 million worldwide, and the upcoming Godzilla: King of the Monsters, which is in production now.
According to The Hollywood Reporter, Wingard closed a deal to helm Godzilla vs. Kong with Legendary and Warner Bros., who have been planning this project since 2015. Legendary had formed a writers room to work on a script for the film in March, with Terry Rossio, best known for co-writing the Pirates of the Caribbean movies, leading the team.
Other writers behind the monster mash-up include Patrick McKay and J.D. Payne (Star Trek Beyond), Lindsey Beer, Cat Vasko, Maze Runner movies writer T.S. Nowlin, Jack Paglen (Transcendence) and Babylon 5 creator J. Michael Straczynski.
Plot details for Godzilla vs. Kong are being kept under lock and key on a South Pacific atoll.
Other creatures planned to be introduced in Legendary and Warner Bros.' MonsterVerse — not to be confused with Universal's own classic movie monster universe featuring characters from Dracula, Frankenstein and The Mummy, now named the Dark Universe — include classic kaiju creatures like Rodan, Mothra and King Ghidorah. Kaiju is the name for the Japanese genre of giant sci-fi monsters, which literally translates to "strange beast." While the 2014 Godzilla features Japanese characters and nods to the creature's Asian origins, I hope this film doesn't lose sight of that...especially since Wingard has just wrapped a Death Note, an American adaptation of a Japanese anime that has been heavily criticized for casting white actors in the parts of originally Asian characters.
Wingard has strong horror roots with movies such as A Horrible Way to Die and entries in anthologies V/H/S. He developed a strong following for The Guest, which starred Dan Stevens, and made the jump to franchises with his sequel to The Blair Witch Project with 2016's Blair Witch. Check out our interview with Wingard from last year on how he tried bring rejuvenate an established horror series with Blair Witch.
Godzilla vs. Kong is scheduled to be released May 22, 2020.